While I was making this cherry salsa recipe I started thinking back to the first time I tried fresh cherries. Do you remember the first time you had a fresh cherry?  Everett is so young he won't remember eating his first fresh cherry (he commonly steals cherries when I'm trying to cook with them!) And I hope for your sake that you started cherry eating too early to remember too.  For me, I was already in my twenties… crazy right?!
I didn't grow up with eating cherries.  Maybe they didn't come to our local grocery store or maybe my mom didn't like them but for one reason or another they didn't end up on our kitchen table.
When I was in my early twenties I took a trip to Spain. While I experienced lots of first tastes there, like my first spanish tortilla espanola, my first croquette, and my first experience with drinking chocolate, when I sat down at the dinner table with an American family who joined a bunch of college students for the trip, everyone was shocked that I had never eaten a fresh cherry.
After careful instruction, I popped a juicy red cherry in my mouth and ate around the pit before awkwardly discarding it. Then again, and again, and again… until I became an expert at pitting the cherry quickly as to best enjoy the tart fruit and until the bowl was empty.
Since then, when cherries arrive at the market I pick them up and remember my time in Spain along with the sweet family who joined us and fed us. If any precious cherries survive the first day of simply eating, I make something like this salsa.
Here are a few more delightful cherry recipes:
Scallops with Cherries and Tarragon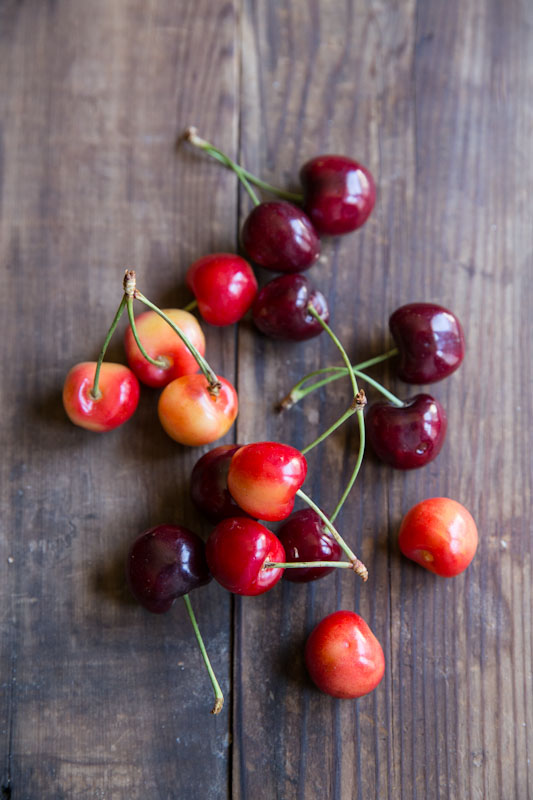 Cherry Salsa Recipe
A simple summer salsa using fresh cherries and mint.
Ingredients
1 1/2

cups

cherries,

about 1/2 lb, divided

1/2

lime,

juice and zest

1

shallot,

diced (or 1/4 red onion)

1

small jalapeño,

diced (1/2 for milder salsa)

6-8

mint leaves,

chopped
Instructions
Pit the cherries using a cherry pitter or a chop stick. Then slice in half. Chop up half of the cherrie and leave the other half sliced. Add in the diced jalapeño and shallot. Zest the half lime over the cherry mixture then squeeze out all of the juice. Add in the chopped mint leaves and toss to combine.

Serve with chips, over meat (it's especially good with pork), on bruschetta with soft cheese, with tacos, or over black beans.
Notes
About 2 tablespoons red onion may be used instead of a shallot.