Okay so I was a bit skeptical when I started hearing about using cauliflower to make pizza crust.  I'll admit, I like pizza and I really like good crust, you know the thick crunchy and chewy all at the same time kind (the kind that literally makes you thankful you're not gluten intolerant!).  But I was curious, as I usually am with any revamped recipe.  So, my friend Lindsay and I developed a cauliflower pizza crust that worked just perfectly baked on a pizza stone, resulting in a crunchy-chewy crust, not like a bread dough, but delicious nonetheless.
When Lindsay came over, two cauliflower heads in hand along with a bunch of herbs, I  knew we were going to have some fun in the kitchen.  We planned to make two recipes, a Cauliflower Couscous Salad and then this pizza, both using cauliflower pulsed in a food processor.  After a bit of testing and adding a little more of this and less of that, we settled on a recipe that both tasted good and was easy to replicate.
To make the pizza, you first make the crust, cook the crust, then add whatever toppings and re-bake for a short time.  We chose simple toppings: marinara sauce, cheese and fresh basil. For the cheese Lindsay brought over a manchego, which is a sheeps milk cheese that's creamy, and distinctive in flavor but not too strong, perfect for pizza.  I also learned from Lindsay that sheeps milk cheeses are easier to digest, adding to the compiling healthy benefits of this tasty pizza!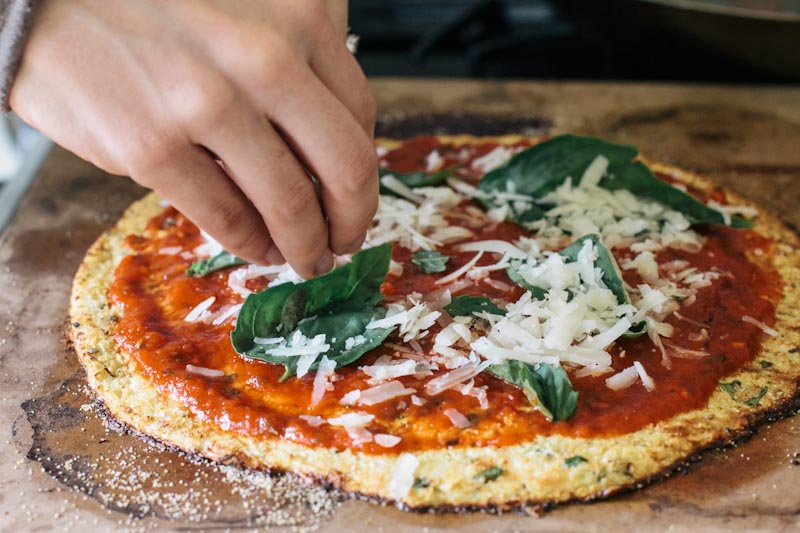 The key to making this pizza crust flavorful is the added chopped herbs and cheese within the crust.  A healthy dose of salt also helps improve flavor. And truthfully, as one who loves gluten-full pizza crust, I enjoyed every bite of this.  And Josh enjoyed it too, though perplexed when I asked him what he thought was in the crust… he really had no idea but just knew he liked it! Give it a shot, and let me know what you think!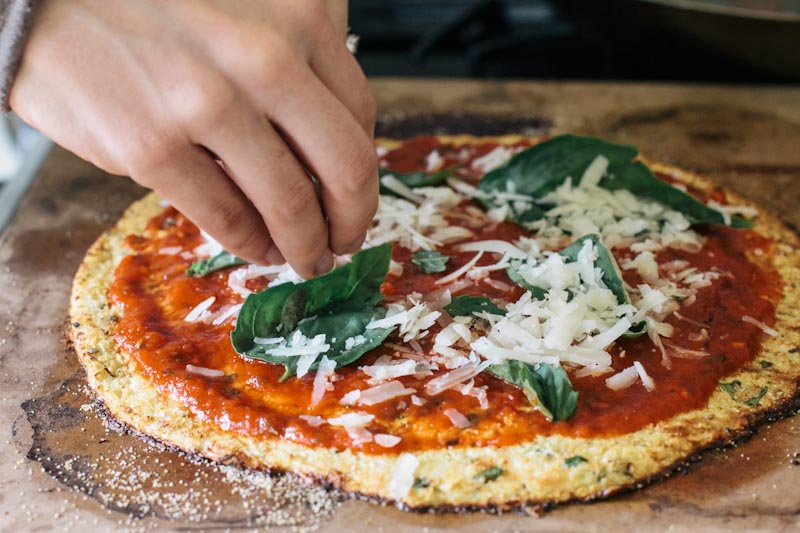 Cauliflower Pizza Crust Recipe
Use cauliflower for this vegetarian and gluten free pizza crust recipe.
Ingredients
for crust
1

small head of cauliflower,

leaves and stems removed

1

teaspoon

basil

1

teaspoon

oregano

1

teaspoon

parsley

1

teaspoon

salt

1/2

cup

Manchengo sheep milk cheese

(or Mozzarella)

2

eggs

cornmeal,

to dust the pizza stone
for pizza
1

jar marinara or pizza sauce

1/2

cup

sheep milk cheese

5-8

basil leaves
Instructions
Preheat oven to 350 degrees.

Chop cauliflower florets into chunks. Pulse the cauliflower in a food processor until it resembles a fine grain, like rice or couscous. Pour cauliflower into a large bowl. Add herbs, and salt, then cheese and eggs.

Spread a tablespoon or so of cornmeal all over a pizza stone. Place the cauliflower mixture (note- this won't resemble a ball of dough) on the middle of the stone and use your hands to press it into a circle about 1/4 inch thick.

Bake for 20 minutes at 350 then an additional 10 minutes at 400 degrees. Crust will be done when it turns golden brown in color.

Remove crust from oven. Change oven temperature to 450 degrees. Add pizza sauce, cheese and whatever toppings you would like, then bake again for about 5 minutes or until cheese on top is melted.
Here are a few more pizza recipes using Cauliflower Crust:
Barbecue Chicken Pizza with Cauliflower Crust by Closet Cooking
Cauliflower Crust Hawaiian Pizza by Recipe Girl
Cauliflower Pizza Crust with Fried Eggs by Love and Lemons