Josh and I both love soups, especially creamy comforting soups like this Carrot Soup, and the more toppings the better! All winter long we're pureeing our favorite vegetables to make creamy-creamless soups… all you need for this is a good blender or immersion blender.
It's actually super easy to turn carrots, garlic, onions, with a few spices and vegetable broth into a thick creamy soup! Then once you have the base, pick out a handful of toppings to add more substance to the soup… our favorite is roasted chickpeas and greek yogurt. You can also use this soup recipe and just switch up the vegetable – try broccoli, parsnips, potatoes, or cauliflower.
Besides eating soup this winter, Josh and I have been soaking in every new change Everett is experiencing. He began crawling backwards about a month or so ago, which meant that he would get himself stuck in corners or underneath tables and chairs quite often. Frustrating as that was, it was also kind of cute to find him under the crib smiling. For his sake, we're glad he's crawling forward now, and even pulling himself up on things. He's strong and I'm sure will be standing and walking in no time.
Everett also loves to crawl to where ever Henry is and pull his tail or pet him. And when he's eating he always shares a few bites with Henry, handing him a cheerio or letting him lick his fingers.
The winter and warm soups have been nice but we're ready for spring, more trips to the park, and playing outside!
This recipe was inspired by Smitten Kitchen. Here are a few other creamy vegetable soups
Creamy Broccoli Spinach Soup by SimpleBites
Curried Cauliflower Soup by Cookie and Kate
Roasted Tomato Soup by Naturally Ella
Squash Soup with Sage and Brown Butter
by Mountain Mama Cooks
Cream of Curry Mushroom Soup by Cookin Canuck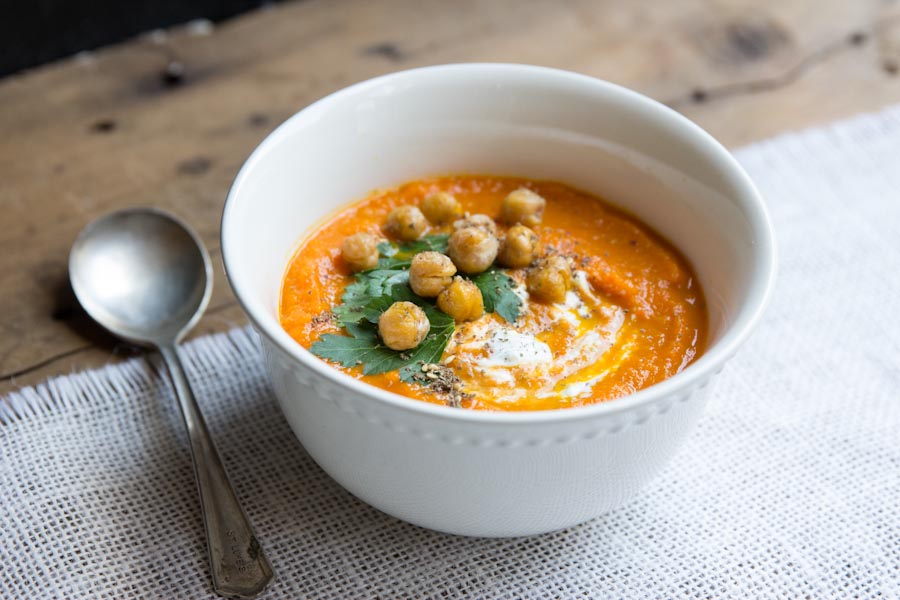 Carrot Soup Recipe with Roasted Chickpeas
Creamy but cream-less carrot soup topped with roasted chickpeas and greek yogurt.
Ingredients
2

tablespoons

olive oil

2

lbs

carrots,

sliced 1 inch thick

1

medium

onion,

chopped

4

cloves

garlic,

minced

1/2

teaspoon

cumin

1/4

teaspoon

coriander

pinch

red pepper flakes

4

cups

vegetable broth
garnishes (optional)
roasted chickpeas

greek yogurt,

mixed with chopped herbs garlic and lemon juice*

parsley

za'ahtar
Instructions
Heat two tablespoons olive oil in heavy large pot over medium heat. Add carrots, onion, garlic, coriander, cumin, salt and pepper flakes and sauté until they begin to brown, about 15 minutes.

Once vegetables have begun to brown, add broth, using it to scrape up any bits stuck to the bottom of the pot. Cover pot with lid and simmer until carrots are tender, stirring occasionally, about 30 minutes.

Puree soup in a blender or with an immersion blender until smooth. Ladle into bowls. Dollop each with greek yogurt,

roasted chickpeas

and za'ahtar.
Notes
*you can also just use plain greek yogurt but we like to spice ours up to serve with soups. We usually add whatever herbs we have on hand - parsley, mint, cilantro, dill and a big squeeze of lemon juice. For this soup the greek yogurt is good with lemon juice and chopped parsley.