These Carrot Cake Pancakes make for a luxurious fall breakfast. They're easy enough to make on a weekday but special enough to serve for a holiday. We enjoy them them with whipped ricotta, honey glazed walnuts and maple syrup but feel free to change up the toppings to fit your family's preferences (sub the ricotta for honey greek yogurt and all the spices for just cinnamon – you get what I'm saying!)
Every Friday Josh makes pancakes. My role is to stay out of the kitchen, no micromanaging, no helping.  Receive, receive, receive with a grateful heart.  This is easy right?! Well I wish it was as easy as it sounds.
This year has been marked by receiving.  While giving feels good, warming your heart and soul, receiving can unexpectedly get tiresome and feel overwhelming or burdensome. Over the months of Everett being sick, in and out of the hospital and in recovery, then having a baby and going through the newborn stage, we've received so much from our generous community here – meals, toys, notes, babysitting, etc etc. And honestly, we've needed it all. Many days we were just on survival mode and a kind note, or meal carried us through. But as much as we needed the help, I wanted to be the one giving and caring for others. As I mentioned on my Instagram, there's so much irony in how many meals we've been given and I'm the one writing about food for a living. It's all so kind and generous but at some point I wanted to say, 'Enough, enough, you have done enough for our family!'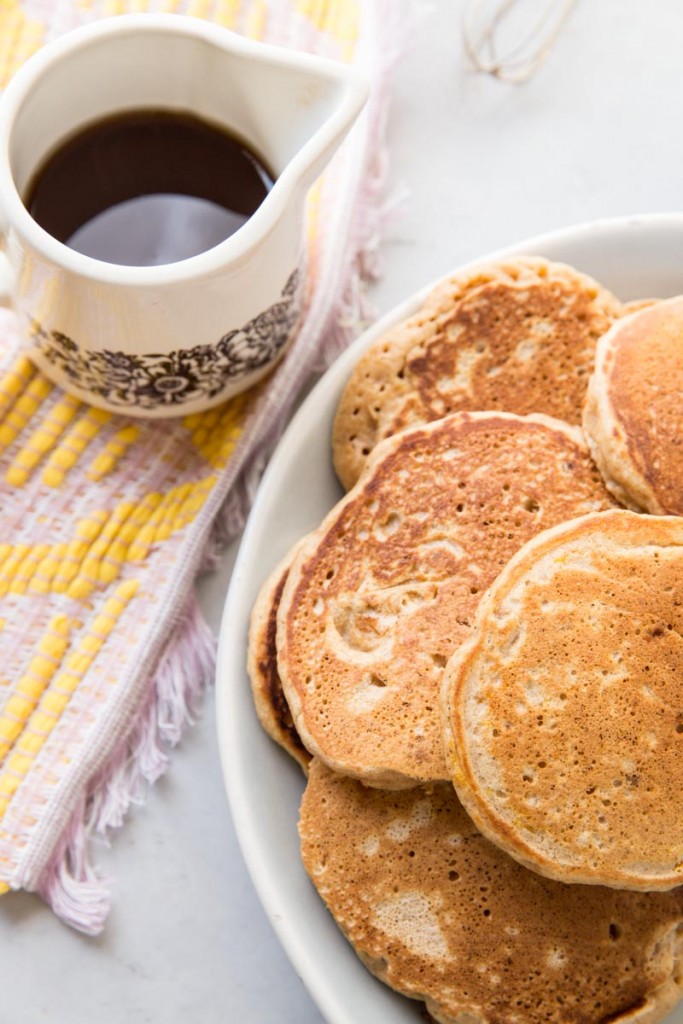 I'm learning that receiving is something that you have to learn or even practice doing gracefully.  While I was overwhelmed with gratitude I simply couldn't keep up with thank you notes, or reciprocal acts of care. I simply had to receive.
In my faith, receiving and enjoying God is what I believe is the only requirement to being in his family, yet how often do I try to earn or perform without even realizing it. We are given the example to be like children and children are the best at receiving, in fact that's mostly all they do, and in return occasionally give back gratitude and love.  I entered into an obvious lesson this year of receiving well and enjoyment of God and his generosity through all of the care we received. I'm hoping this lesson will stick with me and I can carry on the idea into my marriage and other relationships. Sit, enjoy the pancakes, don't lift a finger, receive.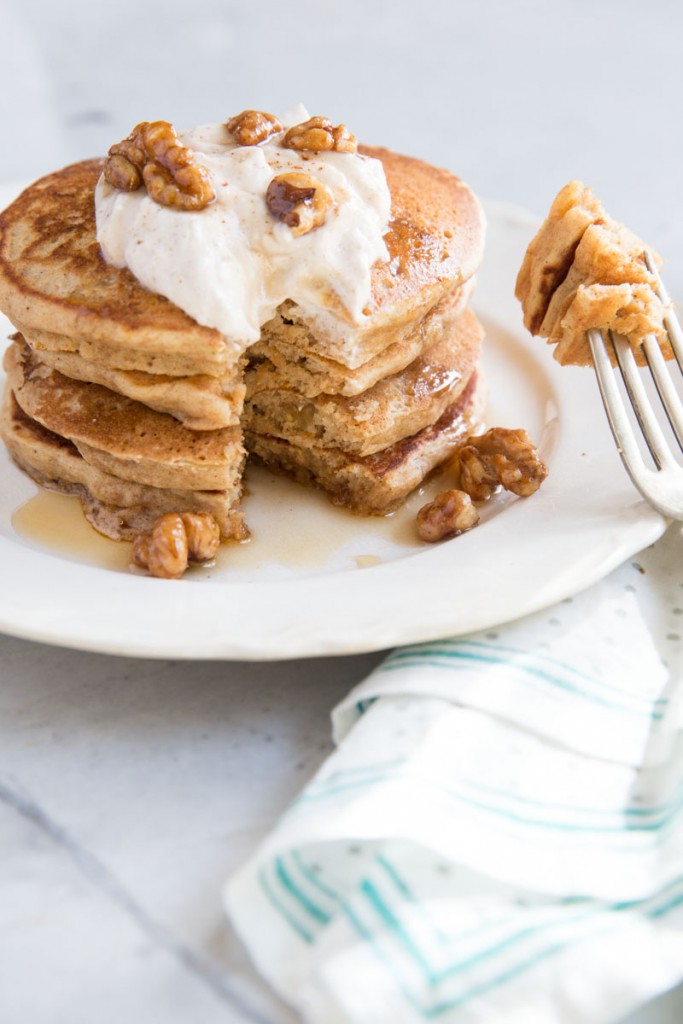 Carrot Cake Pancake Recipe with Whipped Ricotta
Fall spiced carrot cake pancakes served with whipped ricotta, honey glazed walnuts, and maple syrup.
Ingredients
2

cups

flour,

AP or Whole Wheat Pastry Flour

1/4

cup

brown sugar

1

tablespoon

baking powder

1/2

teaspoon

salt

1/3

cup

chopped walnuts,

optional

1 3/4

cups

milk,

whole milk works best

2

eggs

2

tablespoons

oil or melted butter

1

cup

finely grated carrots,

about 2 medium

maple syrup for serving
Spice Blend*
1 1/2

teaspoons

cinnamon

1/2

teaspoon

nutmeg

1/2

teaspoon

ginger

1/4

teaspoon

cloves

1/4

teaspoon

allspice
Whipped Ricotta
2

cups

ricotta*

3-4

tablespoons

honey

1

teaspoon

of the above spice blend

pinch

of salt
Honey Glazed Walnuts
1/2

cup

walnuts

2

tablespoons

of honey

a few pinches of the spice blend
Instructions
Mix together all of the dry ingredients - flour, brown sugar, baking powder, salt, and chopped walnuts. In a separate bowl mix together the spice blend and add 2 teaspoons to the dry ingredients of the pancakes. In another bowl mix together wet ingredients - milk, eggs, oil and grated carrots. Add wet ingredients to the dry ones and stir well using a spatula or wooden spoon. Heat up a large skillet over medium high and add a little oil or butter to the pan. Spoon our pancake batter by the 1/4 cup full.

As you're cooking the pancakes, make the whipped ricotta. Place ricotta, honey and 1 teaspoon of the spices to a bowl or mixer. Use a hand mixer or stand mixer with whip attachment to whip it all together. Taste and adjust seasoning and sweetness to taste. I like mine a little less sweet since we also pour maple syrup over the top.

For the honey walnuts, place a small skillet over medium heat and stir everything together using a small spatula. Keep toasting and stirring the nuts until they're all covered in honey and the honey starts to dry or crystallize a bit (2-3 minutes). Transfer to parchment paper to let them cool and dry.

Serve hot carrot cake pancakes with whipped ricotta, honey glazed walnuts, and maple syrup.
Notes
If you don't prefer to use ricotta or just don't have it around your house you can use Greek Yogurt, Cream Cheese or Mascarpone Cheese. If you use one of the other cheeses you may need to thin them out a bit with a little cream or bring them to room temp before whisking the spices in. Also, for the spice blend feel free to use what you have, even if its just some cinnamon.