This caramelized onion galette (or rustic tart) may just be the best thing that's ever happened to an onion. It's all of the sweetness that is so loved in French onion soup but wrapped up in flaky pie dough.
This month's Eat Seasonal Guide had the illustration of an onion so I knew I had to put on my thinking cap and get some creative juices going with onions this month. Though I don't usually think of onions as seasonal, they really are and if you see them in the farmers market now, it's definitely the best time to get them flavor wise.  Pick up a few and make something that really highlights the onion for once!  We all use onions in our everyday cooking but how rarely do we use them as the main ingredient of a dish?! Not often enough.
You may not be a fan of raw onions, but caramelized onions are a different thing all together. They are sweet and silky, savory and smooth. Even my 4 year old loves them! Here are a few tips to caramelizing an onion:
• Slice the onion thin
• Heat up a skillet (don't use non stick for this) to medium high before you add the onions in and don't add oil.
• Let them cook and brown for at least 4-6 minutes before stirring them.  You want them to stick to the pan a little before you push them around. Once they start browning, then you can stir with a wooden spoon occasionally.
• Add a little butter and a touch of sugar to enhance the caramelization (not necessary but it does boost the flavor and texture).
About the Recipe
• I use homemade pie crust because I find it's easier to work with than store bought and tastes better. You can find my recipe here.
• Let the galette sit in the fridge for 30 minutes before baking to ensure that the crust will be flaky.
• Brush the crust with an egg wash and dust with sea salt and freshly ground pepper before baking.  This gives every bite of crust even more flavor.
• Gruyere cheese is my favorite for this galette but you can also use white cheddar if you're in a pinch.
Here are some more fun seasonal recipes to take advantage of all the fresh produce out right now! If you make one or if you're making something else with a seasonal ingredient, make sure to tag #eatseasonal on instagram so we can all share the fresh inspiration!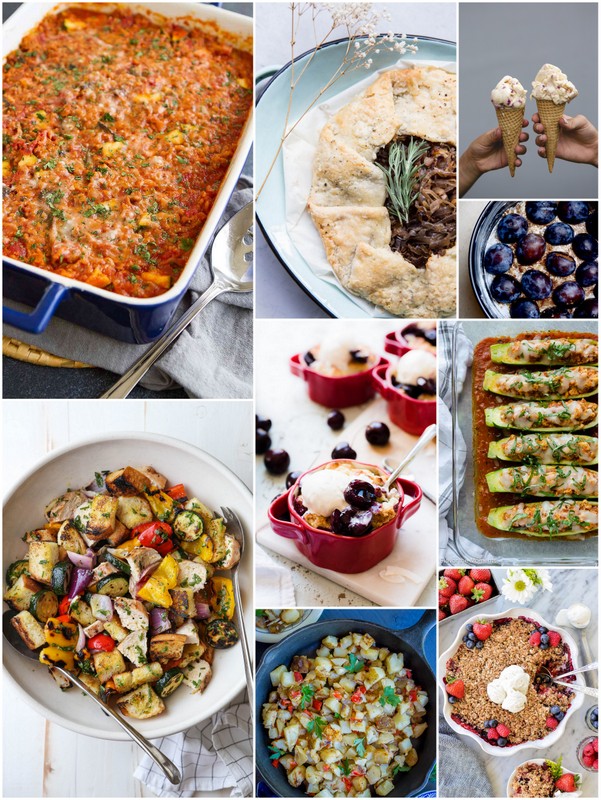 Healthy Turkey, Zucchini & Rice Casserole by Cookin' Canuck
Caramelized Onion Galette by The Vintage Mixer
Roasted Blueberry Cheesecake Ice Cream with Graham Cracker Waffle Cones by Food for My Family
Italian Plum Upsidedown Cake by Suitcase Foodist
Grilled Chicken and Vegetable Panzanella Salad by Completely Delicious
Coconut Cherry Cobbler by Kitchen Confidante
Chicken Parmesan Stuffed Zucchini Boats by Flavor the Moments
Healthy Berry Crisp with a Coconut Oat Crumb Topping by Joy Food Sunshine
Zucchini, Cherry Tomato, and Gorgonzola Bites by Letty's Kitchen
Caramelized Onion Galette
This savory Caramelized Onion Galette is great for an appetizer or meatless dinner!
Ingredients
3

large

onions,

sliced then (2 yellow and 1 red)

1

teaspoon

butter

2

teaspoons

sugar

1/4

teaspoon

salt

1

cup

gruyere cheese*

1

pie crust
for the crust and garnish
1

egg

sea salt and freshly ground pepper

1

teaspoon

fresh herbs,

chopped (rosemary works well)
Instructions
Caramelizing the Onions
Heat up a large heavy bottom skillet over high heat (don't use non-stick here unless that's all you have). Add the thinly sliced onions and turn heat down to medium high. Let cook for 3-4 minutes then start to stir using a wooden spoon. You want to wait until they start sticking to the bottom of the pan and getting brown so if you start stirring and they're not to that point yet, let them keep cooking for an extra 2 minutes. Use the wooden spoon to scrape up any browning form the bottom of the pan and stir occasionally for 3-4 more minutes.

Turn the heat down to medium and add in the sugar, butter and salt. Starr occasionally and cook the onions until caramelized 10-15 more minutes. Set aside to cool
Assembling the Galette
Grate the gruyere cheese and toss with the caramelized onions.

Roll out the pie crust to a large circle. Spoon out the onion and cheese mixture to the center of the pie crust, piled high. Fold the edges of the crust up onto the onions.

Place prepped galette in the refrigerator for 30 minutes.

Preheat oven to 375 degrees.

Brush a whisked egg over the edges of the crust (you don't need much but this will make the crust golden brown. Sprinkle the crust with extra sea salt and freshly ground pepper.

Bake for 40-50 minutes or until crust is golden brown.

Sprinkle finished galette with fresh herbs. Let cool slightly then serve. This can be served with a green salad for a meal or as an appetizer.
Notes
If you can't find gruyere cheese, white cheddar also works well.