When my friend Haley and I get together we make some of the most delicious things. She's proof that two are better than one in the kitchen. My crazy ideas matched with her expertise, make for a good pair. Our latest creation… these… to die for Butterscotch Peach Ice Cream Sandwiches. An indulgence straight from the South but made right here in the mountains by two sweet tooth gals.
Haley brought over all the fix ins to make gluten free butterscotch cookies, which she'll be sharing on her blog, A Fuller Life (an amazing gluten free blog that is loved weather or not you're gluten free), while I made the peach ice cream in advance using fresh peaches from our local market.
Haley is an inspiration to me. She regularly uses her passion for baking to serve and feed others around her and to connect with friends. When we are together I'm quickly reminded and reenergized on why I enjoy cooking and blogging. It is so refreshing to be with someone, especially a friend who is also a blogger, whom you don't feel competitive with (not because she's not talented because she is WAY talented) because I know she has a genuine care for me and isn't all focused on success and numbers with her blog. She blogs because she loves to bake and share her gift with others and it's as simple as that. So, when we cook together I'm reminded of my own vision for bringing people together around a table and feeding others beyond the food I place in front of them.
Together, we baked cookies and chatted while making sure not to burn anything as we got all caught up with each others lives. The rest of the ice cream sandwich making happened in slow steps, letting the sandwiches rest in the freezer in between steps.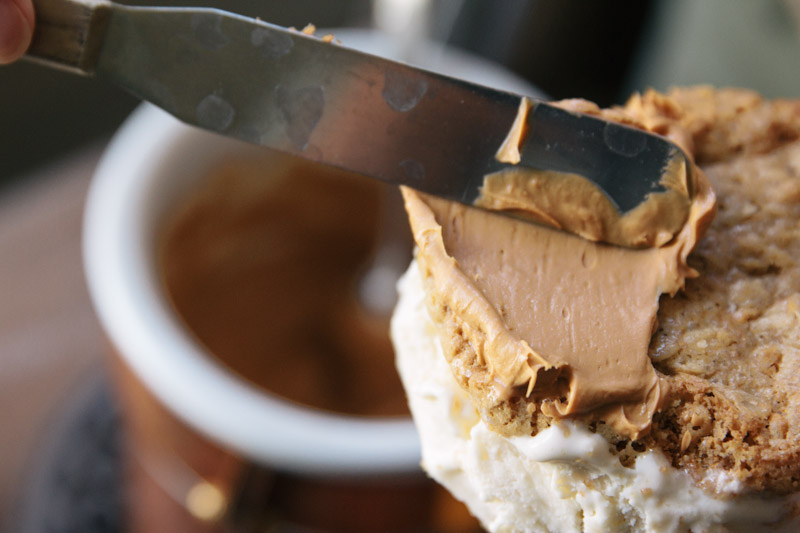 I made a complete mess of my kitchen but no broken cookie or butterscotch smeared knife was wasted, I assure you 🙂
The ice cream sandwiches were out-of-this-world amazing and the time shared with Haley fed my soul. Good people are good like that 🙂
Here are a few of Haley and I's other creations as well as some of my favorite recipes of hers:
Pistachio Macarons with Raspberry Buttercream
Haley's Gluten Free Cinnamon Rolls
Haley's Perfect Buttercream Frosting
Haley's Giant Peanut Butter Cup
Haley's Super Cookies with Figs
Butterscotch Peach Ice Cream Sandwiches
Peach Ice Cream sandwiched between two rich oatmeal cookies with butterscotch chips.
Ingredients
1

cup

butter,

browned

3 1/2

cups

oats

1

cup

flour

1

teaspoon

baking powder

pinch of salt

3/4

cup

brown sugar

1/2

cup

granulated sugar

2

eggs

2

teaspoons

vanilla

1

cup

butterscotch chips
Ice Cream Sandwiches
1/2

batch

peach ice cream

20-24

butterscotch oatmeal cookies

1/2

cup

butterscotch chips
Instructions
In a small pan, brown the butter over medium heat. Carefully watch the butter so that it doesn't burn, letting it turn to a brown color and give off a nutty aroma. Once butter is browned, let it cool then refrigerate it to turn the butter back into a solid form but not totally cold (this may take about 30 minutes)

Preheat oven to 350 degrees.

In a large mixing bowl, combine oats, flour, baking powder and salt.

Using a stand mixer combine the browned butter and sugars until they are light and fluffy. Add in the eggs one at a time. Stir in the vanilla, then gradually add in the dry mixture. Once combined, stir in the butterscotch chips.

Line a cookie sheet with parchment or a silt pat and bake cookies at 350 for 8-10 minutes or until golden brown. Remove from oven and let cool completely before making into ice cream sandwiches.
For Ice Cream Sandwiches
Spoon out slightly thawed Peach Ice Cream onto one cookie then spread with the back of your spoon. Top with another cookie then immediately place it in the freezer. Repeat with remaining cookies and ice cream. For a nice finishing touch spread melted butterscotch chips over half of each cookie.