This Blueberry Frangipane Galette is everything Summer should stand for… an easy, fresh dessert recipe that is also so much fun! This galette can be prepped in less than 15 minutes and is way easier to make than a full on pie, yet with the same result.
A galette may sound more fancy or difficult but let me promise you its way easier than the American classic counterpart. Simply put, a galette is a free form pie (no pie plate needed). If you've been around my blog for a bit you probably already know this bit I'm a galette gal (proof is here, here, and here).  Love pies, LOVE them, but they can be finicky and I just found a rhythm making galettes and now I can't stop.  To me, they are easier to make than a pie, fool proof with the same end result – flaky pie crust, fruity filling. With a galette you don't have to worry about your crust shrinking, no hassle with a top crust, and there's no need for bling baking (pre baking) before you fill it. Just roll the dough out, pile the filling on high then fold up the edges.  And, it can look as rustic as you like with no apologies… my kind of pie for sure!
For a good galette you must start with a good pie dough recipe. This pie crust session helped me overcome my fears of making homemade crust.  Since then even, I've bought store bought crust thinking I could save time and been frustrated because I couldn't work with it easily and the crust fell apart.  So now I'm on the other side and have a tried and true crust recipe that for me is even easier than the store bought stuff that you have to defrost.  I usually make a batch of two crusts and freeze one to use later.  To defrost it perfectly just keep it in the fridge overnight.
About this Recipe:
• The frangipane filling is way more simple that the fancy name sounds.  It's a mixture of almonds, sugar, egg, and butter, that you can quickly whip up in a blender.  The filling is so good you'll be finding all kinds of uses for it.
• I like to roll out my crust on parchment so that I don't have to transfer it multiple times and risk it breaking or falling apart.
• The egg wash on the exterior edges of the crust is so that the crust gets golden brown and not dry.  The sugar ensures the pie is good right up until the last bite of the edge.  And trust me, you'll want to eat the crust of this one, no discarding this time!
• I like to use straight blueberries but if you want it to be sweeter and more jammy, then you can toss the blueberries with sugar (about 2-3 tablespoons should do it) and a teaspoon of cornstarch before adding them to the galette. Again, straight blueberries is the simple (and sugar free) way to go but if you like your pies really sweet you may want to add some sugar here.
If you're like me and want a easier path to pie, this galette is definitely the answer!  I'll be making versions of this all Summer long!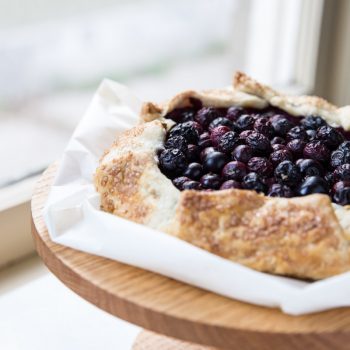 Blueberry Frangipane Galette
A simple blueberry galette recipe with frangipane almond filling.
Ingredients
Frangipane
3

tablespoons

butter

1/4

cup

sugar

1/2

cup

almonds

1

egg

1

drop

almond extract,

optional

1

pinch

salt
Galette
1

pie crust

12

ounces

blueberries,

2 packages, washed and dried

1/2

recipe

frangipane

1

egg,

for brushing the crust

1

teaspoon

coarse sugar,

for the edges of the crust
Instructions
Frangipane
In a blender mix together all of the ingredients for the frangipane filling. Reserve half in an air tight container in the fridge for another later use (I promise to give you more tasty applications for this!!). This should stay fresh for 1 week in the fridge.
Galette
Preheat oven to 375 degrees and set out a rimmed baking sheet.

Roll out the pie crust on a parchment sheet. Use flour to make sure the crust doesn't stick and also flip it occasionally to prevent sticking.

Spread out the frangipane (half of the above recipe) in a circle about 1.5 inches shy of the edge.

Top with all of the blueberries, heaping up on top of the filling but not on the edges.

Fold up the edges working clockwise.

Whisk the egg reserved for the crust. Use a pastry brush or your fingers to brush the edges of the crust with the egg (you don't need to use much but make sure to cover it all so the crust gets golden brown. Then dust with the coarse sugar.

Carefully transfer the parchment sheet carrying the galette onto the baking sheet.

Bake for 50 minutes to 1 hour or until the blueberries are a little bubbly and the crust is golden brown.

Let cool 5-10 minutes then serve warm with vanilla ice cream.
Since I'm totally head over heels for galettes here are some more ideas using this simple free form rustic pie idea:
Strawberry Rhubarb Almond Galette
Beet Goat Cheese and Hazelnut Galette