Yes, it's citrus season but it's also chocolate season. Am I right? I have two tasty chocolate recipes coming up for you starting out with these jewels, Homemade Brownies. When it comes to brownies, I'll be honest, there are no bad brownies but I do believe there are better brownies and after this recipe I think there most definitely is a best brownie. I found this recipe from Ruth Reichl on Guilt Taste. As she describes, 'when you replace ordinary ingredients with spectacular ones, you end up with something that is rich, deeply chocolate and lingers in your memory like a wonderful dream.'
For as long as I can remember I have loved brownies. Maybe it was all the Texas chocolate sheet cake (basically a brownie) or just the gatherings of girl friends over the years that almost always included a plate full of dense chocolate brownies. I can remember making them on my own for the first time with a girl friend and overloading the box mix with all kinds of chocolate candy (much like Parent Trap). And I can remember making them for a group of cheerleaders in college, where the plate remained untouched
(a unfathomable happening).
After trying many recipes over the years, I think I've finally met my match. These brownies are taller with a deep fudge-like interior
and a crackling meringue-like top that crunches when you take a bite! I know I'll be making them for years to come, maybe my kids will be making it for their kids (…it's that good). This may even turn into your house brownie recipe as well!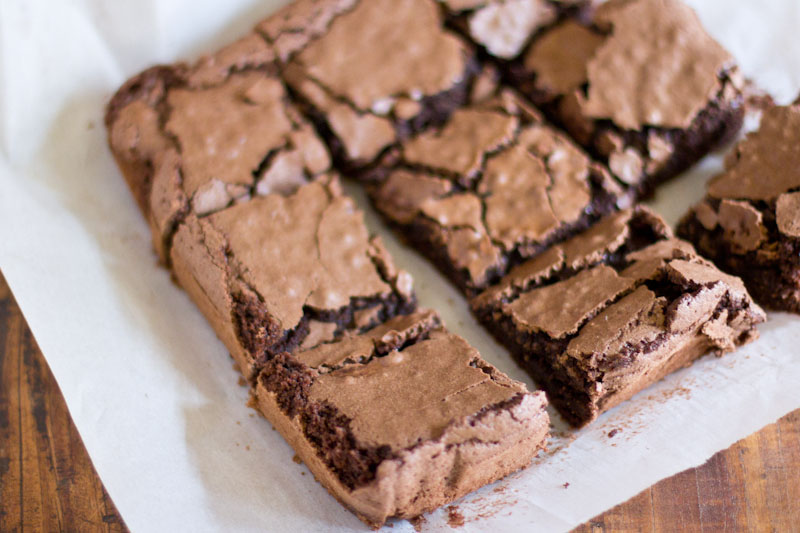 Best Homemade Brownie Recipe
Recipe and tips for making the best homemade brownies.
Ingredients
2/3

cup

unsalted high-fat butter (European-style),

5 ounces

5

ounces

unsweetened excellent chocolate,

measure by weight

2

cups

sugar

2

teaspoons

best-quality vanilla extract

4

farm fresh organic eggs

½

teaspoon

sea salt

1

cup

all-purpose white flour,

sifted
Instructions
To prepare the pan, butter a 9x9 square pan and line the bottom with parchment paper. Butter the bottom again and lightly dust the pan with chocolate or cocoa powder.

Preheat the oven to 400 degrees.

Melt the chocolate and the butter in a small saucepan over low heat, stirring constantly until the mixture is smooth and glossy. Remove from heat and stir in the vanilla.

Beat the eggs and salt in a stand mixer. Add the sugar and beat on high for about 10 minutes, until the mixture has turned quite white. Add the chocolate mixture to the eggs, beating on low until just mixed.

Gently stir in the flour until it just disappears.

Pour the batter into the prepared pan, place in the middle of the oven and immediately turn the temperature down to 350 degrees. Bake for 40 minutes; the brownies will be quite fudgy and a toothpick should come out not quite clean. Cool on a rack.

Invert the pan, remove the parchment paper and invert again onto a cutting surface. Cut into squares.