Okay, okay, I know Berry Frangipane Brioche sounds super fancy but it's totally not.  It also tastes fancy but it's so simple guys!  This toast is like a cross between French Toast and a Fruit Tart and I think you're gonna love it!
Here's the skinny on this recipe, it's a really good slice of bread (brioche is luxuriously soft and sweet), slathered with a creamy sweet frangipane (an almond paste that can be made in your blender in a few seconds), topped with seasonal berries and finished off in the oven.  We've been eating this little treat with yogurt for an easy Summer breakfast. It's almost like a breakfast fruit tart but in toast form.
This recipe was inspired by a pastry that I had on a ski day at Deer Valley and after plunging into the first bite I knew I had to recreate this one once berry season came around!
About the Recipe
Brioche can be found at most grocery stores these days and even better if you can find it fresh, like at a bakery.  The French style brioche is the best! It's sweet and soft and makes the perfect French Toast or in this case Berry Toast.
Frangipane is a simple Italian filling made up of eggs, butter, sugar and ground almonds.  Everyone seems to have their own set of steps to making it but I find it can simply be made in a blender.  Make sure to blend up the almonds into a flour-like powder before adding in the rest of the ingredients and it works best if the butter is at room temperature. The recipe for Frangipane below is double what you need for the toast (for 4 people or 4 slices) so you can reserve the second half to make this Blueberry Frangipane Galette.
Don't skip the toasting part because the frangipane is raw and the berries will deepen in their flavors once cooked too.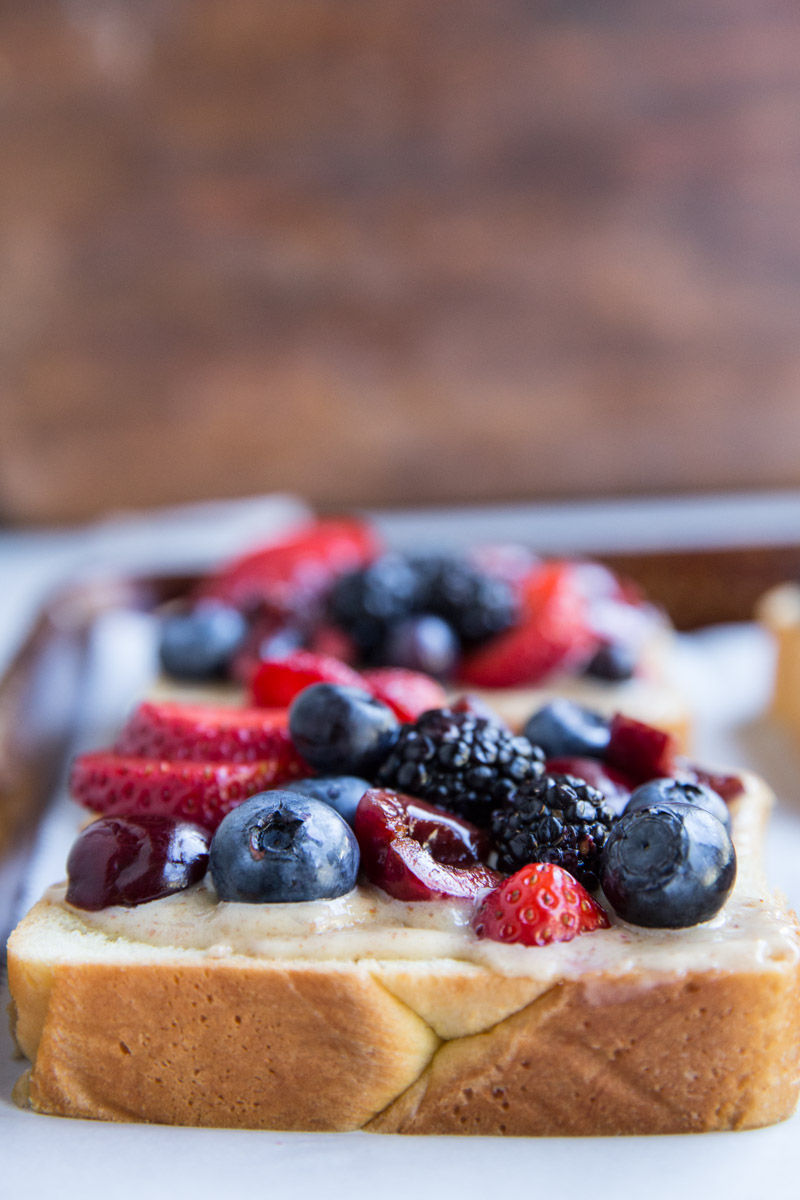 #EatSeasonal Recipes
Seasonally fresh food should be simple, just like these simple toasts.  Here are some more great tasting seasonal recipes that are a must try for the month. Share your seasonal recipes using the hashtag #eatseasonal.
Golden Beets with Black Beans and Dried Cherries by Letty's Kitchen
Summer Melon and Couscous Salad by Foodie Crush
Berry Frangipane Brioche Toast by Vintage Mixer
Paleo Double Chocolate Zucchini Banana Bread by JoyFoodSunshine
Kale Salad with Blueberries Cherries and Goat Cheese by Flavor the Moments
Pesto Butter Corn on the Cob by Cookin' Canuck
Gluten-Free Strawberry Shortcakes by Food for My Family
Triple Berry No-Bake Cheesecake with Amaretti Crust by Floating Kitchen
Pickled Beets by Healthy Seasonal Recipes
Sour Cream Panna Cotta with Strawberry Compote by Simple Bites
Blueberry Acai Frozen Yogurt by Kitchen Confidante
Lower Carb Zucchini Noodle Pasta Bake by She Likes Food
Berry Frangipane Brioche Toast
A simple but elegant toast recipe with brioche, berries, and frangipane.
Ingredients
4

slices

Brioche

2

cups

berries,

I used strawberries, blueberries, and cherries

1/2

recipe

frangipane,

1/4 cup or about 1 tablespoon per slice of bread
Frangipane (almond filling)
1/2

cup

almonds

3

tablespoons

butter

1/4

cup

sugar

1

egg

2

drops

almond extract

1

pinch

salt
Instructions
Frangipane
In a blender, grind up the almonds to a flour-like powder. Then add in all of the other ingredients and blend until smooth. Reserve half in an air tight container in the fridge for another later use (like my blueberry galette). This should stay fresh for 1 week in the fridge.
For the Toast
Preheat oven to 350 and get out a baking sheet.

Spread 1 to 1 1/2 tablespoons of frangipane over the brioche slices. Top with a mixture of fresh berries.

Arrange bread on the baking sheet and bake for 10 minutes.

Serve warm with yogurt or by itself.
Notes
The frangipane recipe makes enough for 8 slices of toast or you can use half and reserve half to use for a fruit pie, fruit tart, or a galette (see my recipe for Blueberry Frangipane Galette). 
More Fresh Berry Recipes
Smoothie Bowls topped with fresh berries
Strawberries and Cream Oat Bars