I've been wanting to experiment with making homemade donuts for a while now but its kind of hard without owning a donut pan. Luckily, my professional baking friend Haley and my sassy, sweet toothed friend Hannah, were all over the idea, and came to my rescue with donut pans and butter in hand.  We cooked up the most delicious donuts with a hint of nutmeg and a perfectly pink berry glaze.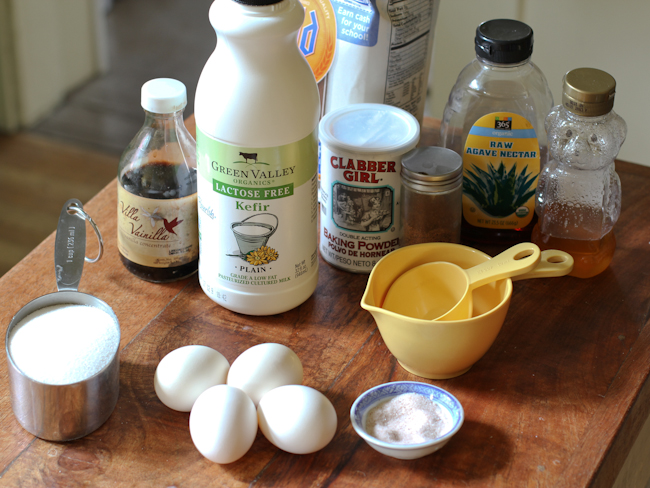 Both Haley and I had recently listened to a Spilled Milk podcast talking about Nutmeg Muffins and we were perplexed that the spice was used in a main role of a baked good.  We had to try it out for ourselves so we made a little twist in our donut recipe, flavoring them with nutmeg to give them a new flavor.  Nutmeg is commonly a side-kick spice, but hardly ever do you find it as the main spice in a recipe.  It often compliments cinnamon or is used minimally along with other spices. Being that I usually enjoy supporting the underdog or the undervalued things in life, I can say now that I'm a big fan of nutmeg.
I also used kefir from Green Valley Organics as the milk product for this recipe.  Kefir is a great healthy substitute for buttermilk. If you don't have kefir you can use buttermilk or yogurt.  Although, I will highly recommend kefir since it is a probiotic with active cultures (very good for you!).
Thanks to Haley and Hannah for such a fun afternoon of baking!  As we were baking we also came up with a new pinboard on pinterest for kitchen bloopers, Food Blogger Bloopers on Pinterest, you should check it out. Also, here are a few more photos of the homemade donuts process:
Separately, mix the wet ingredients and the dry ingredients.
Then mix the wet ingredients into the dry ingredients.
Spoon the batter into well greased borrowed donut pan.  It doesn't have to look perfect.  Or you can use a pastry bag to divide the batter into the donut rounds. Either way they will turn out looking like yummy donuts.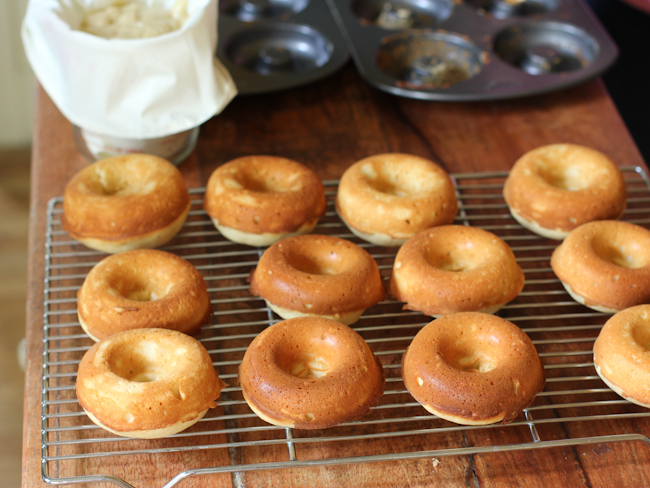 While they're baking, make the icing.  Dip donuts into a shallow bowl of the icing then let them cool until the icing is set.
Baked Nutmeg Donut Recipe with Berry Icing
Everyone loves these baked donuts covered in berry icing for a lightened up donut treat!
Ingredients
2

cups

all-purpose flour

1/2

cup

sugar

1 1/2

teaspoons

baking powder

1/2

teaspoon

freshly ground nutmeg

1/2

teaspoon

salt

3/4

cup

kefir,

or low-fat buttermilk or plain yogurt

2

large

eggs

1/4

cup

honey,

or agave

2

tablespoons

melted butter or coconut oil

1/2

teaspoon

vanilla extract
Berry Icing
1/2

cup

frozen mixed berries

2

tablespoons

sugar

1 1/2

cups

powdered sugar

1/2

teaspoon

vanilla
Instructions
Preheat oven to 425°. Lightly grease a doughnut pan.

Combine flours and next 4 ingredients (through salt) in a large bowl, stirring well with a whisk.

Combine kefir, eggs, honey, butter, and vanilla, stirring well with a whisk. Add wet mixture to flour mixture; whisk just until combined.

Spoon batter into doughnut pans, filling two thirds full. (Use a piping bag if you want to be more exact). Bake in middle of oven until doughnuts spring back when touched and are golden on bottom (about 9 minutes). Let cool in pan slightly (about 4 minutes); turn out onto a wire rack.

Top with a mixture of sugar & nutmeg or dip into berry icing.
For Berry Icing
Over the stove, cook berries with sugar and a couple tablespoons of water over medium heat until the berries are cooked down to a sauce (about 15 minutes). Strain into a bowl to get rid of any seeds then add 1 1/2 cups of powdered sugar and 1/2 tsp vanilla extract. Mix well.