In honor of eat local week I made a sandwich, a green veggie sandwich with local ingredients (all except one – you can't get avocados locally); then we went on a hike and picnic and enjoyed every bite of our local sandwiches while taking in the breath-taking views that our state can boast of.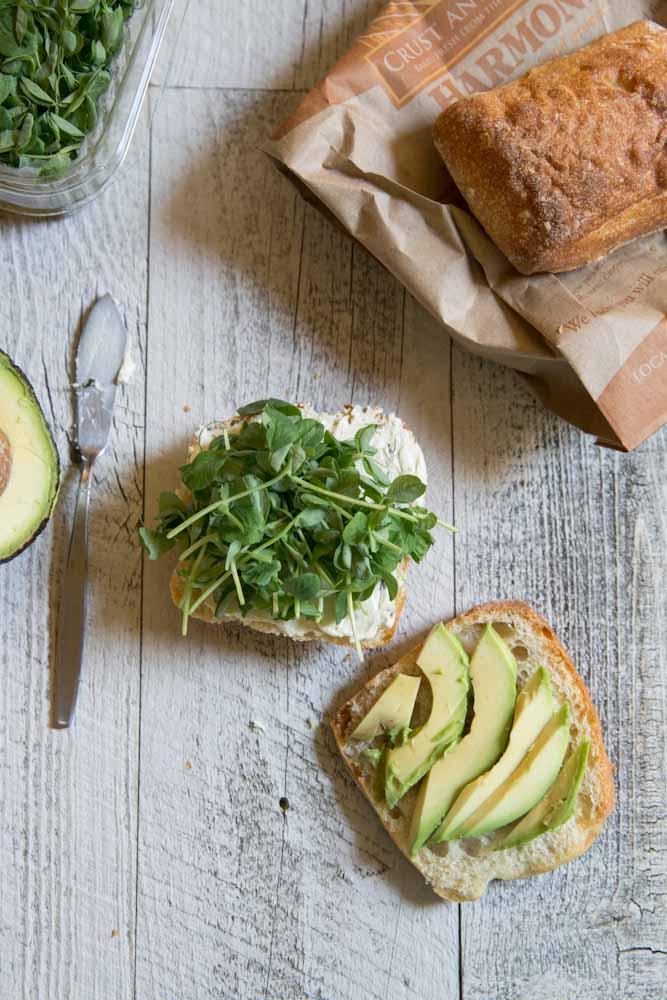 We are so lucky to live in a state where eating locally is easy, and where breath taking views are without limit. We're not sacrificing in flavor or quality when we choose local here in Utah. In fact, quality and freshness reigns supreme here and even outranks much of what comes in from out of state.
We refueled mid-hike with these sandwiches made with ciabatta bread from Harmons, goat cheese from Shepherd's Cheese mixted with basil from my garden, and sprouts from Park City. The avocados, well they were bought locally, and I will say you can easily find cucumbers or zucchini locally which would also be tasty but I'm a sucker for a thick slice of avocado on my sandwich, especially when its an all veggie sandwich. All of these local ingredients were found at Harmons.
Two ingredients really make this sandwich great – the fresh bread and the basil infused goat cheese. Harmons ciabatta is perfectly chewy with nice caverns of air for the cheese to find it's way into. I also love ciabatta bread with soup as it soaks up just the right amount of broth and still remains crispy! The goat cheese mixed with basil is creamy, herby and gives the sandwich flavor that you just can't get with sliced cheese. And if you really want a more decadent sandwich, add some locally made mozzarella (Harmons makes their own) and put this sandwich on the stove or grill it for a toasty treat.
It just felt right to be enjoying a locally sourced sandwich while overlooking one of the most beautiful local scenes (we hiked to Cecret Lake up by Alta). We took it all in – the tastes, sights, smells, and fresh air. And feeling blessed with packed up our picnic supplies and headed back down the mountain. The land has so much to give us here and we just have to remember to embrace it all and not ever take it for granted.
Local Green Veggie Sandwich
A green veggie sandwich that's perfect for a picnic or tasty lunch.
Ingredients
4

ciabatta rolls,

I use Harmons

1/4

cup

goat cheese

5-8

basil leaves,

chopped

1

tablespoon

olive oil

1/8

teaspoon

real salt

1/2

cup

sprouts

1

avocado

1

cucumber,

sliced thick (optional)
Instructions
Combine the goat cheese with chopped basil, olive oil and salt.

Slice the rolls in half then spread the goat cheese out on the top slices of each sandwich. Add greens/sprouts to the goat cheese, then add the avocado and cucumber. Sandwich the bread together, and slice in half.
If you would like to participate in Eat Local Week, read the mission on their website EatLocalWeek.org.