It's Super Bowl time, which means we must have an assortment of good appetizers and dips on hand!  This Avocado Chickpea and Yogurt dip is a favorite at our house.  Honestly, I could eat it by the spoonful and if there's any leftover after the game I'll be spreading it on sandwiches the next day!
Josh is a big football guy. You may find that unlikely, with all of his tattoos and his wily musician demeanor, but truly he bleeds with Southern pride and has a big place in his hart for the American sport. This year I've been trying really hard to embrace this as I've sat down with him for many games, shared a beer or two, and made an assortment of football foods.  When I made this dip, he's one response was that he could have some of this every day. So, we've been making it a lot!
As for the nutrition benefits of this dip – there are many… while avocados provide Vitamin E and help to lower cholesterol, they also help you to absorb the nutrients in the other foods you eat.  So if you dip carrots into this dip, you'll be getting great absorption of beta carotene. The chickpeas are a great source of fiber and help with digestive support as well.  And of course you know yogurt is a great source for protein and calcium, but did you know that Greek Yogurt almost doubles the nutrients that are in regular yogurt? Plus it is more creamy than regular yogurt, which I love. But nutrition aside, this dip tastes amazing!!
This dip is easy to make when you have a trusty food processor like this one above from Magimix.  I recently got this beautiful machine and have been whipping up dips and spreads like a crazy woman! Oh and it's great for baby food too!  Once you have the processor out it's nice to go ahead and make a few things at once.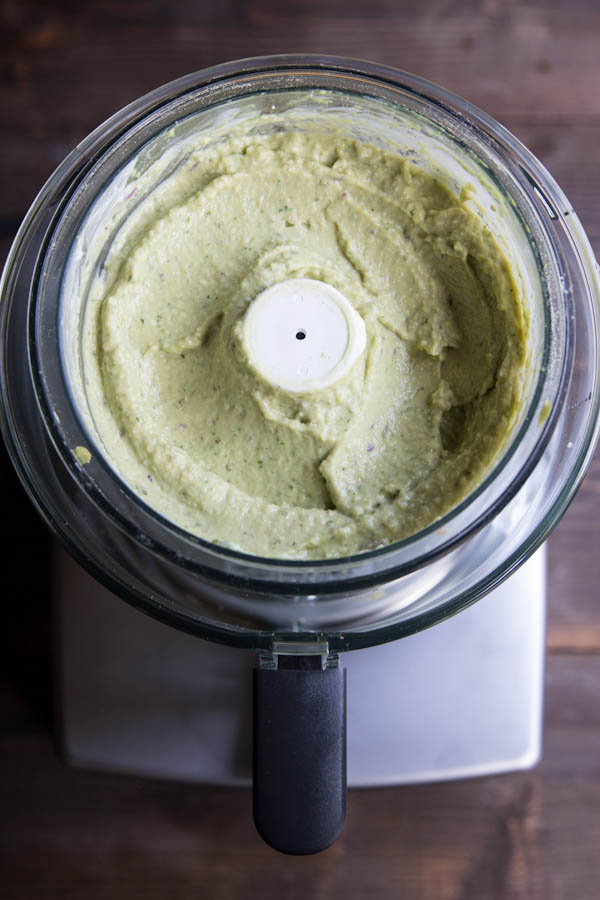 The food processor makes the dip so smooth and creamy that I usually end up adding a few chunks of the onion and chickpea back in just for a a more chunky consistency. If you don't have a food processor, you can also use a blender.  Here are a few more of my favorite party dips:
Kale Artichoke Dip with Greek Yogurt
White Bean, Rosemary and Artichoke Dip
Avocado Chickpea Yogurt Dip
A healthy and flavorful avocado dip perfect for gatherings!
Ingredients
2

ripe avocados*

1

can of chickpeas,

drained and rinsed

1/2

cup

Greek Yogurt

1/2

cup

red onion,

chopped

3

tablespoons

cilantro,

chopped

1

Jalapeno,

diced

2

tablespoons

lime juice

1

garlic clove,

minced (or 1/2 teaspoon of toum*)

1/2

teaspoon

salt

1/2-1

teaspoon

cumin,

depending on how spicy you'd like it to be
Instructions
Chop jalepeno, red onion, and cilantro.

Set aside a tablespoon or two of the red onion and the drained chickpeas (so the dip will have some small chunks in it).

In a food processor mix together all other ingredients.

Stir in the extra red onion and chickpeas then garnish with extra cilantro.

Serve the dip with crackers, chips, pita bread, pita chips, or raw vegetables.
Notes
Avocados are ripe when you can gently press into the skin it should slightly give but not be mushy. If you would like to use toum (a Lebanese garlic condiment) instead of garlic you can find it at Middle Eastern stores or in Salt Lake City from Laziz Foods at Caputo's or Harmon's.
this is the specific Magimix food processor model that I've been enjoying