Eat fresh and healthy this month by following the recipes and ingredients in this Seasonal Produce Guide.
Man oh man, harvest season is here in full swing!!  My garden is on the edge of bursting and the booths at the farmers market are bustling. I am almost overwhelmed at the amount of produce to choose from and I even get a little panic-y like I'm going to miss out on something if I don't get it now.  Maybe I just need a cool cocktail to relax a little and just enjoy it all while it's here… fresh tomatoes, bright colored carrots with all of their beautiful stems in tact, green beans so fresh you can hear them snap, and raspberries so juicy that I'll still be thinking of their ripe flavor come mid winter.
Follow the hashtag #eatseasonal to get all of the latest greatest seasonal recipe ideas.  Save the image at the top of this post as your computer screensaver to help you remember to eat what's fresh.  Or use the image at the bottom of the post for your cell phone.  Enjoy!
Apples
Salmon with Apple, Cucumber, Avocado Salsa
Sweet Potato, Apple, Cranberry Saute
Maple Cashew Baked Apples by Cookin' Canuck
Beets
Beet, Goat Cheese and Hazelnut Galette 
Beet Walnut Honey Dip (pictured above)
Beet and Walnut Energy Cookies
Heart-Beet Cookies (vegan)
Goat Cheese Plolenta with Crispy Beets
Roasted Beet and Hazelnut Salad
Roasted Beet and Plum Salad by Floating Kitchen
Blackberries
Berry Frangipane Brioche Toast
Arugula Salad with Blackberries and Chèvre by Cafe Johnsonia
Blackberry Ginger Smash by The Lemon Bowl
Blackberry and Almond Coffee Cake by Floating Kitchen
Cabbage
Roasted Red Cabbage by Floating Kitchen
Thai Chicken Cabbage Wraps with Peanut Sauce by Floating Kitchen
Lean Grilled Hamburgers with Hot Sauce Cabbage Slaw by Cookin' Canuck
Asian Cabbage Slaw with Mint and Scallions by The Lemon Bowl
Carrots
Honey Roasted Carrots with Goat Cheese and Pomegranates
Butternut Squash, Carrot and Orange Soup
Spanish Carrots with Fennel and Toasted Hazelnuts
Creamy Carrot Soup with Crispy Chickpeas (dairy-free & pictured above)
Cauliflower
Cauliflower Chickpea and Crispy Kale Tacos
Quinoa Crusted Cauliflower Steaks
Cauliflower Couscous Greek Salad
Cucumbers
Salmon with Apple, Cucumber, Avocado Salsa
Cucumber and Chickpea Salad with Creamy Za'ahtar Dressing by Project Domestication
Quick Refrigerator Pickles by Mountain Mama Cooks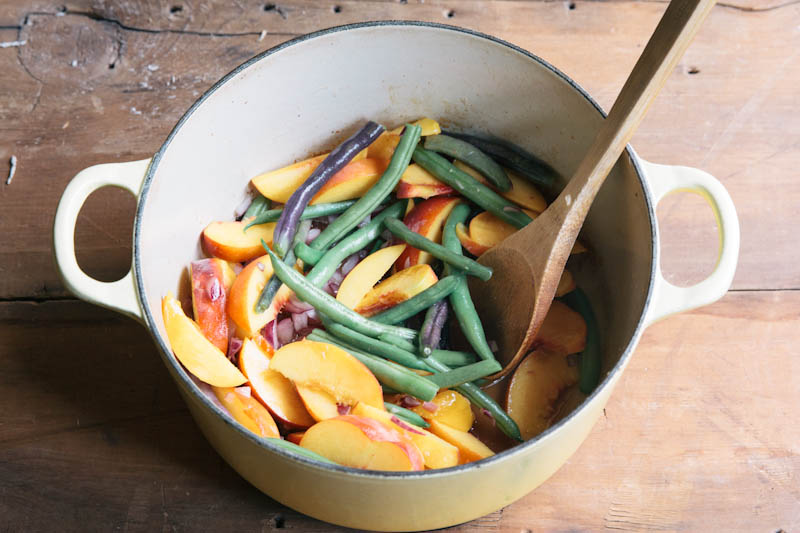 Green Beans
Roasted Pork Chops with Peaches and Green Beans
Curry Chicken with Green Beans
Green Beans with Feta and Pecans
Easy Green Bean Salad by Simple Bites
Pearled Barley Salad with Green Beans and Feta by Flavor the Moments
Herbs
Tzatziki Chicken Salad with Fresh Herbs 
Fresh Mint Chocolate Chip Cookies
Cauliflower Couscous Greek Salad with Parsley, Mint, and Basil 
Avocado and Basil Picnic Sandwiches
Kale
Classic Kale Salad + How-to Video
Kale Artichoke Dip with Greek Yogurt
Kale and Black Bean Falafel (pictured above)
Kale and Coconut Chicken Salad
Kale Caesar Salad with Blueberries and Lemon Ricotta
Leeks
Soft Scrambled Eggs with Goat Cheese and Leeks (pictured above)
Yukon Gold Potato and Leek Soup with Sorrel
Chicken with Mushroom and Leeks by FoodieCrush
Spring Vegetable Risotto with Leeks by Flavor the Moments
Leek and Mushroom Bake with Polenta Crust by Simple Bites
Melons
Watermelon Mojitos (pictured above)
Melon Coolers (non-alcholic beverage)
Watermelon Wedge Salad with Basil Goat Cheese and Almonds
Melon Caprese Skewers with Herb Oil by Floating Kitchen
Melon Arugula Salad by Two Peas and Their Pod
Peaches
Coconut Macaroon Filled Peaches (pictured above)
Canned Peaches with Honey Simple Syrup
Peach Buckle (similar to coffee cake)
Butterscotch Peach Ice Cream Sandwiches
Peppers
Roasted Red Pepper Sauce with Cashews
Egg Muffins with Peppers, Kale and Cheddar
Spanish Romesco Sauce (pictured above)
Roasted Cauliflower and Farro with Red Pepper Sauce
Plums
Plum Tarragon Jam (pictured above)
Stone Fruit Breakfast Pastries
Potatoes
Yukon Gold Potato and Leek Soup with Sorrel
Potato Gnocchi (step-by-step guide)
Farmers Market Salad with Green Beans, New Potatoes and Goat Cheese Croutons
Boiled Potatoes with Olive Oil, Basil and Mint by Cookin' Canuck
Radicchio
Fava Bean and Fennel Risotto with Sautéed Radicchio
Raspberries
Raspberry Popovers (pictured above)
Beet Banana Raspberry Smoothie
Raspberry and Chocolate Angel Food Cake Grilled Cheese by Foodie Crush
Raspberry Coffee Streusel Muffins by Floating Kitchen
Raspberry Crepes Brûlée by Project Domestication
Summer Squash
Farro Risotto with Squash and Corn
Tomatoes
One-Pan Farro with Tomatoes, Sausage, and Kale (pictured above)
Strawberry Tomato Dessert Sauce
Zucchini
Greek and Italian Zucchini Noodle Salads
Zucchini Chocolate Chip Cookies (pictured above)
Zucchini Noodle Salad with Spicy Peanut Sauce
Quinoa Primavera with Zucchini