Sometimes I find it hard to make much of anything out of the fresh summer produce I pick up at the market. I have all of these great ideas (like the list of seasonal recipes below) but then I get to the market, and if I'm honest, some of the produce gets eaten even before we arrive home, like that little turquoise carton of berries we picked up this Saturday.  And my family is no help either, Everett could eat all of the berries if I let him.  But if I have enough self discipline, to put aside some of the produce without eating it immediately, what comes in the end is always worthwhile.  This recipe for Apricot Glazed Chicken is really an apricot sauce that is good on just about anything from quinoa and veggies to chicken.  Today I'm sharing how to use it as a glaze for grilled or roasted chicken but you'll have plenty leftover sauce for other uses!
This sauce is great made in advance then you can spread it over chicken before roasting or grilling or use it for a few days over grains and veggies. Lighten it up with a little oil and vinegar and it makes a great salad dressing too. Glazed Apricot Chicken is perfect over a bed of quinoa to soak up the extra sauce and a side of fresh steamed green peas is also a perfect pair to go along with it.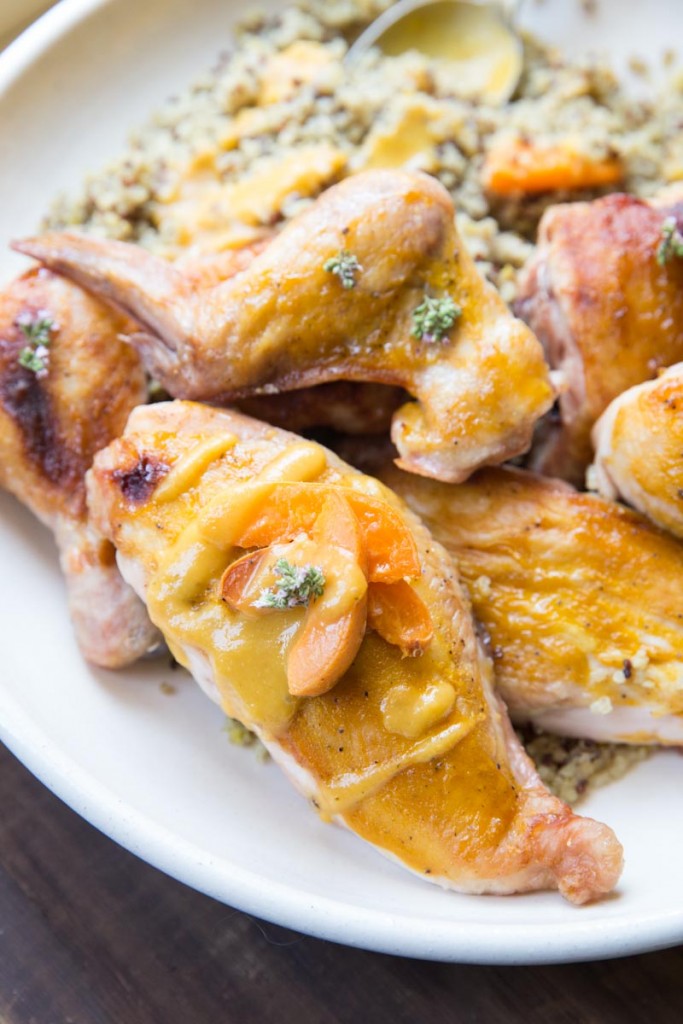 I'm so lucky to have such inspiration all around me for seasonal foods.  Recipes like Liz's Chocolate Strawberry Protein Smoothie, Erin's Peach Salad with Chicken, or Marcie's Strawberry Panzanella Salad motivate me to make something delicious with my produce.  See the full list below for more inspiration!
Quick Pickled Strawberries with Black Pepper and Tarragon by Simple Bites
Pea and Arugula Pesto by Floating Kitchen
Creamy Grilled Corn Pasta by Completely Delicious
Chocolate Strawberry Protein Smoothie by The Lemon Bowl
Crispy Chicken & Cucumber Salad with Dijon Vinaigrette by Climbing Grier Mountain
Healthy Zucchini Muffins by Gimme Some Oven
Fresh Corn Salad by Bless this Mess
Apricot Glazed Chicken by Vintage Mixer
Spinach Pesto by Mountain Mama Cooks
Papaya Seed Vinaigrette Dressing by Kitchen Confidante
Baked Zucchini Fries with Pesto Yogurt Dipping Sauce by Cookin' Canuck
Peach Salad with Grilled Chicken and Raspberries by Well Plated
Poached Beets with Star Anise and Cinnamon by Project Domestication
Strawberry Fields Panzanella Salad with Strawberry Balsamic Vinaigrette by Flavor the Moments
How to Make Arugula Pesto by Foodie Crush
Apricot Chicken Recipe
Apricot Glazed Chicken great for summer grilling or roasting.
Ingredients
1/2

tablespoon

butter

1/2

tablespoon

olive oil

1/2

onion,

diced

1

celery stalk,

sliced

8

small apricots,

cut into wedges (about 3 cups)

1/4

cup

honey

3/4

cup

vegetable stock

1/2

tablespoon

fresh thyme

1/2

tablespoon

oregano flowers,

optional

salt and pepper to taste

1

whole chicken,

4-5 lb, divided (skin on)
Instructions
Saute the onion in the butter and olive oil until almost translucent. Add in the celery and apricots. Saute together for 3-5 minutes or until apricots start to soften. Add in the honey, stock, and herbs. Cook on medium low for 15 minutes. Cool then blend using a blender or immersion blender. Store in an airtight container in the fridge for up to one week. Use a basting brush and 1/4 cup of the sauce (separated since you'll be using it on raw chicken) to coat the chicken before grilling or roasting. Rewarm the rest of the sauce in a small pot before serving.
to cook the chicken
Grill or roast the chicken until an internal temperature of 165 degrees. This is about 50 minutes if you're roasting or 10-15 minutes on each side if you're grilling. Remove the smaller pieces early so they don't overcook (wings).

Servie with quinoa, veggies, and extra sauce.