A bag of pita chips and a small container of almond olive tapenade were dropped off our our house by a close friend in the early weeks of our transition into parenthood.  When the urge to snack came on, as it does frequently when you're sleep deprived and nursing, I would find myself returning to the fridge for this. After it was all gone, I checked the list of ingredients on the package and came up with my own version of it.  Since then, we've been enjoying it as a dip with vegetables or crackers or spreading it on sandwiches. The saltiness of the olives paired with the crunchy almonds just perfectly hits the spot.
We were SO blessed by food drop offs after Everett arrived. Josh and I have been giving meals to friends for years, not really understanding what it was like to be on the receiving side as a new parent.  Let me just tell you… EVERY meal, snack, and special note was true blessing.  They allowed Josh and I to sit on the patio, with a baby in our arms and paper plates filled in front of us, completely content and belly's satisfied, without a worry of clean up!   Those nights and those meals will be some of our sweetest memories of our first few months being parents.
I hope to recreate several of the meals we enjoyed from friends. Its crazy how special a little plastic container of olive tapenade can be, when it's delivered to you with love during a special time of your life.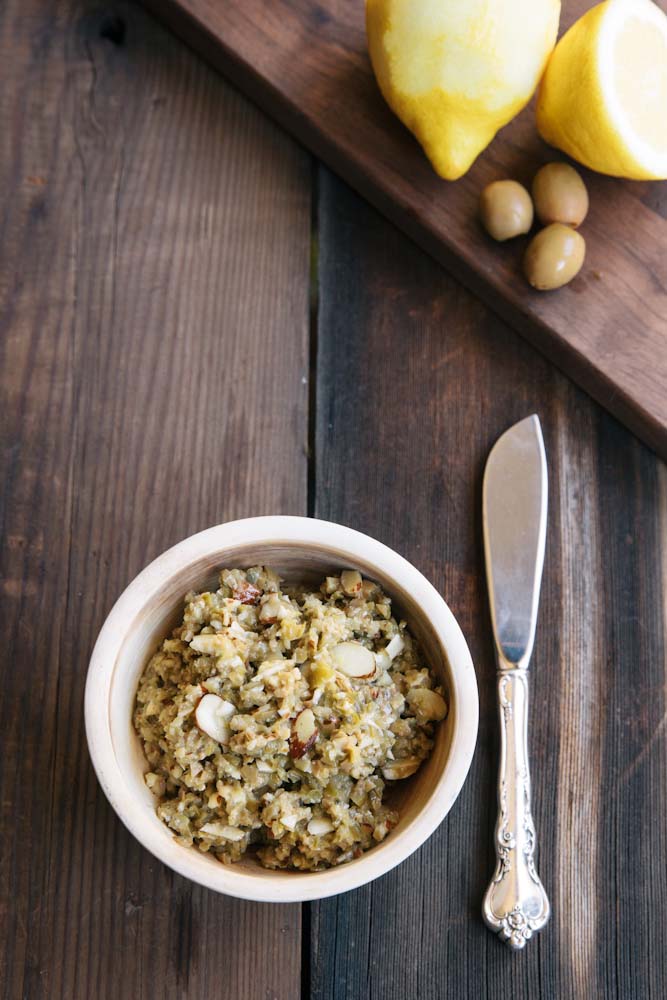 Almond Olive Tapenade Recipe
A simple dip or spread using almonds and olives.
Ingredients
6

ounce

can of green pitted olives

1/4

cup

sliced almonds

(toasting them is optional)

1

teaspoon

capers

zest of 1/2 lemon

1/2

tablespoon

lemon juice

2

tablespoons

olive oil

sea salt to taste*
Instructions
Place all ingredients in a food processor and pulse until desired consistency. Add salt to taste.
Notes
If you don't have a food processor you can finely chop all of the ingredients or mash with a mortar and pestle.
You don't need much salt because of the saltiness of the olives.