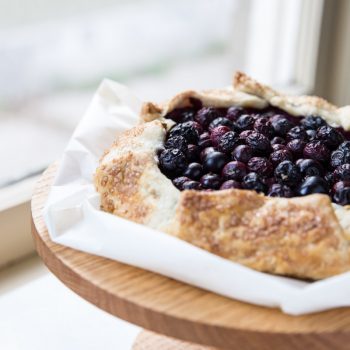 Print Recipe
Blueberry Frangipane Galette
A simple blueberry galette recipe with frangipane almond filling.
Frangipane
3

tablespoons

butter

1/4

cup

sugar

1/2

cup

almonds

1

egg

1

drop

almond extract,

optional

1

pinch

salt
Galette
1

pie crust

12

ounces

blueberries,

2 packages, washed and dried

1/2

recipe

frangipane

1

egg,

for brushing the crust

1

teaspoon

coarse sugar,

for the edges of the crust
Galette
Preheat oven to 375 degrees and set out a rimmed baking sheet.

Roll out the pie crust on a parchment sheet. Use flour to make sure the crust doesn't stick and also flip it occasionally to prevent sticking.

Spread out the frangipane (half of the above recipe) in a circle about 1.5 inches shy of the edge.

Top with all of the blueberries, heaping up on top of the filling but not on the edges.

Fold up the edges working clockwise.

Whisk the egg reserved for the crust. Use a pastry brush or your fingers to brush the edges of the crust with the egg (you don't need to use much but make sure to cover it all so the crust gets golden brown. Then dust with the coarse sugar.

Carefully transfer the parchment sheet carrying the galette onto the baking sheet.

Bake for 50 minutes to 1 hour or until the blueberries are a little bubbly and the crust is golden brown.

Let cool 5-10 minutes then serve warm with vanilla ice cream.