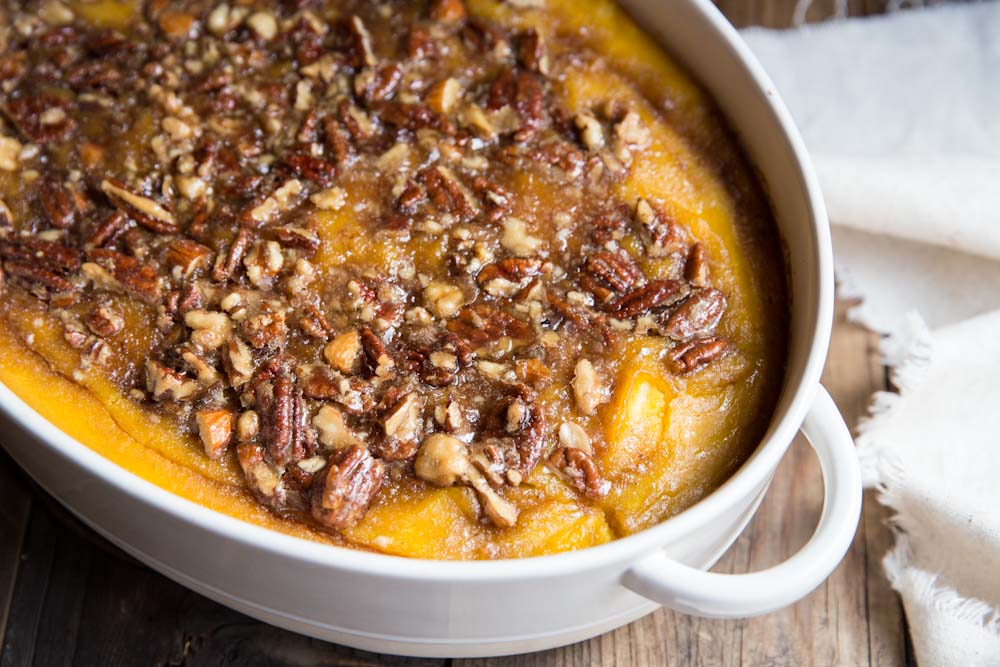 A more modern take on the Sweet Potato Casserole this time with Acorn Squash and a Maple Nut Praline.
Cuisine:
American, Holiday
Preheat oven to 400 degrees F. Slice squash in half lengthwise and remove seeds and stringy insides. Place squash cut side facing up on a rimmed baking sheet. Inside each squash half, place 1/2 tablespoon of butter and 1 tablespoon of maple syrup. Sprinkle all of the squash with sea salt (about 1/2 teaspoon total). Roast for 40 minutes or until tender.

Let cool, then spoon out the squash (including the butter and maple syrup) into a bowl. Place squash in blender with orange juice and zest, eggs, 2 tablespoons melted butter, baking powder, and 2 tablespoons of maple syrup. Then stir in 1 teaspoon vanilla, and the other half teaspoon of salt.

Transfer the squash mixture to a greased 3-quart casserole dish. (At this point, the casserole can be covered and refrigerated overnight.)

In a large saucepan over medium heat, combine pecans, brown sugar, the remaining 2 tablespoons of maple syrup, 1/8 teaspoon salt, the remaining butter (3 tablespoons) and 1 teaspoon vanilla and bring to a boil. Cook for 2 minutes more, then pour over squash mixture. Bake until bubbly, about 45 minutes.
Since several of the ingredients are used in both the squash mixture and the praline it's best to just keep the ingredients out and measure them out separately as you go. Though if you accidentally add a little extra butter or maple syrup I think you'll be okay :)