These days cooking is mostly about feeding my family. Nothing too elaborate or intensive but meals that will satisfy and it's even better if there's enough for leftovers.  Breakfasts are no exception.  These whole wheat english muffins do just the trick.  I make them on a Sunday afternoon and we enjoy them toasted all week long. Smeared with butter and jam or creamy peanut butter and honey or filled with eggs, cheese and kale… they've all been tested and approved!
Making a simple breakfast is one way I can enjoy time with Everett and Josh more. I've been reading this really awesome book, Bread and Wine, by Shauna Niequest. I've really loved her thoughts on being present with your family and have been challenged to simplify my life in so many ways.  Here are a few of her thoughts.
"We have, each one of us, been entrusted with one life, made up of days and hours and minutes.  We're spending them according to our values, whether or not we admit it."
"I practice being entirely where I am, glamorous or not, and what I find is that it's better to be in one place, wholly and full-heartedly, than a thousand splintery half pieces, glamorous as they may be."
I'll leave you with those few thoughts and a few photos for today!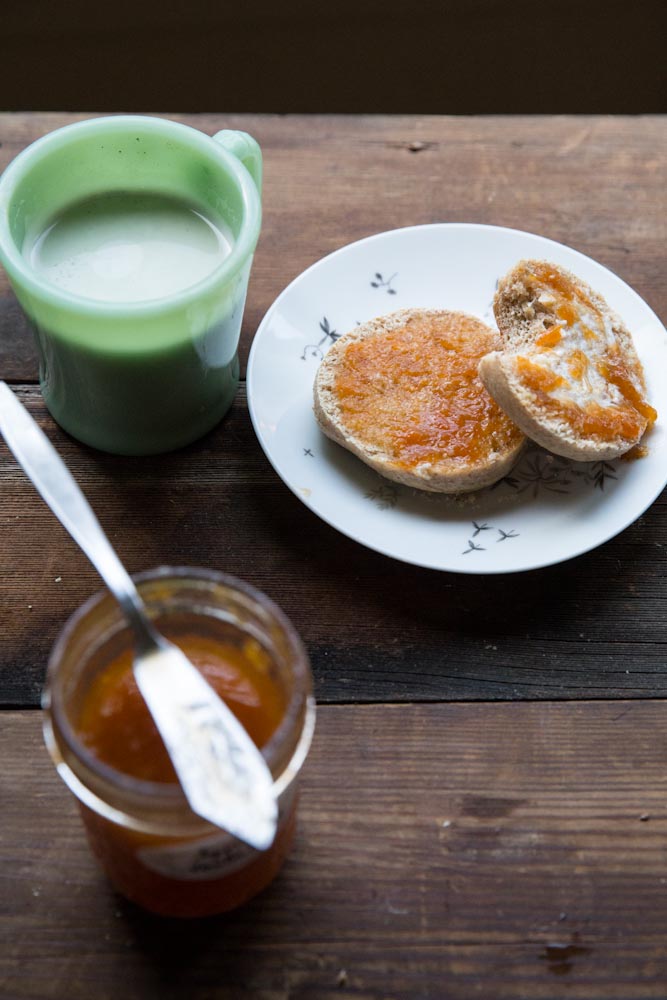 Here are a few more easy meals that I've been making repeatedly for my little family:
Cheesy Baked Quinoa with Chicken and Vegetables
Cauliflower Fried Rice (we add all kinds of veggies to this one)
One Pan Farro with Tomato, Kale and Sausage
Tomato Basil Chicken and Quinoa with Feta
Whole Wheat English Muffin Recipe
These Homemade whole wheat english muffins make for a weeks worth of healthy breakfasts!
Ingredients
2 1/4

cups

whole wheat flour

2 1/4

cups

bread flour*

1 1/4

teaspoon

salt

1

tablespoon

honey

1

teaspoon

baking soda

2

teaspoons

instant yeast,

1 packet

1 3/4

cups

buttermilk*

3

tablespoons

butter

1

egg

cornmeal for dusting,

about a teaspoon or two
Instructions
Melt butter over the stove top on low heat. Add honey then gradually add in buttermilk. Remove from heat and set aside

Mix all dry ingredient in a stand mixer with dough hook attachment. Slowly add in the wet mixture. Combine until a ball forms. Then let the mixer knead the bread for 2 minutes.

Place kneaded dough in a lightly oiled bowl and let rise, covered for 1 hour.

Split the ball in half and roll line half out about 1/2 inch thick. Cut with a biscuit cutter or a glass cup. Repeat with second half of the dough Place rounds on a semolina dusted cookie sheet and let rise for another 30 minutes.

Preheat oven to 325 degrees.

In a non-stick pan, over medium high heat, toast the outsides of the dough for 4 minutes on one side then flip and toast 2 minutes on the other side. This is what gives the muffins their brown exterior.

After both sides are toasted, place the muffins back on the cookie sheet and bake them for 15 minutes.

Store in an airtight container at room temperature for about a week. To serve, split the muffins in half and toast.
Notes
I've tried the recipe with both bread flour and all purpose in addition to the whole wheat and the bread flour gives a better texture but if you don't have it on hand its not necessary. I did try all whole wheat flour and the muffins were too dense. Also, whole milk can be used instead of buttermilk.