A few weeks ago, after receiving a few fragrant vanilla beans from Rodelle in the mail, I asked my instagram friends for suggestions on how to make the best use of these natural beauties. I got so many great recommendations and sounded just perfect – Vanilla Bean Frozen Yogurt.  To spice up the frozen yogurt a little I added some ginger and the result… pure bliss.
Rodelle Vanilla is having a big Ice Cream Contest, in which the winner gets a kitchen aid stand-up mixer!  It's a great excuse to dust off your ice cream maker!!
Whenever I get my hands on vanilla beans I feel an urgency to make something special, something with a touch of elegance putting the small flecks of vanilla on display. I've made vanilla bean rum cake with a rum caramel sauce, which made an incredible birthday cake for a friend. Most often I make homemade vanilla bean yogurt, so this frozen yogurt was an extra special treat. And after meeting Jeni from Jeni's Ice Creams at her recent book signing in Salt Lake, I had the perfect frozen yogurt base recipe to use!
Thanks to all of my friends on instagram for all of the amazing ideas!!  Here are some vanilla bean recipe ideas that I'll be making in the near future:
vanilla bean cupcakes
vanilla bean caramel sauce
homemade vanilla extract
vanilla bean scones
vanilla bean infused bourbon
vanilla bean rice krispy treats
vanilla bean creme brûlée
vanilla bean pastry cream with seasonal berries
add vanilla beans to your favorite homemade jam
Also, here are some more recipes using fresh vanilla beans that I've found from my favorite blogs online:
Red Velvet Cupcakes with Vanilla Bean Cream Cheese by the Little Epicurean
Strawberry Vanilla Bean Jam by Completely Delicious
Vanilla Bean Banana Cream Pie by Kitchen Confidante
Blueberry Salad with Vanilla Bean Vinaigrette by Cafe Johnsonia
Vanilla Bean Scones from Mountain Mama Cooks
Vanilla Bean Pancakes from Naturally Ella
Vanilla Bean Panna Cotta by Barbara Bakes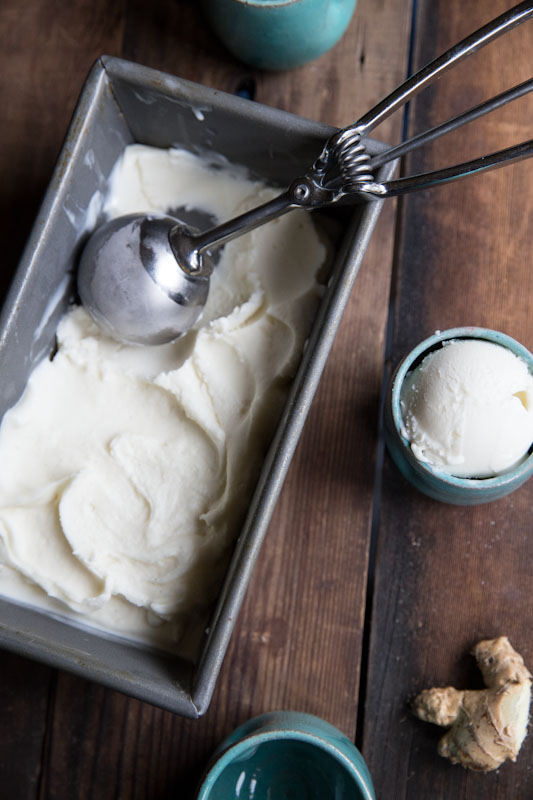 This recipe was adapted from Jeni's Ice Creams' Frozen Yogurt Base Recipe.
Ginger Vanilla Bean Frozen Yogurt Recipe
Homemade frozen yogurt recipe with vanilla bean and ginger.
Ingredients
1

quart

plain low fat yogurt

1 1/2

cups

whole milk

2

tablespoons

cornstarch

2

ounces

4 tablespoons cream cheese

1/2

cup

heavy cream

2/3

cup

sugar

1/4

cup

light corn syrup

1

teaspoon

of ginger,

about 3 dime sized slices (skin removed)
Instructions
in advance
Fit two layers of cheese cloth over a medium sized bowl (or a sieve lined with cheesecloth). I secured the cheese cloth by putting a rubber band around the edge of the bowl, making sure there was room in between the cheesecloth and the bottom of the bowl for yogurt to drain. Pour the yogurt into the lined bowl cover with plastic wrap, and refrigerate for 2-8 hours to drain. Discard the liquid* (or save for smoothies), and measure out 1 1/4 cups of the strained yogurt*; set aside.
prep
Mix about 3 tablespoons of the milk with the cornstarch in a small bowl to make a smooth slurry.

Whisk the softened or room temp cream cheese in a medium bowl until smooth.

Fill a large bowl with ice and water.
cook
Combine the remaining milk with the cream, sugar, ginger slices, and corn syrup in a medium saucepan. Slit the vanilla bean length-wise and scrape out the seeds into the cream mixture, then add the vanilla bean to the pot as well.

Bring to a boil of medium high heat and boil for 4 minutes. Remove from the heat and gradually whisk in the cornstarch mixture.

Return the mixture to a boil over medium hight heat and cook, stirring, until slightly thickened, about 1-2 minutes. Remove from heat. Using a slotted spoon remove the 3 ginger slices and the vanilla bean pod from the mixture and discard.
chill
Gradually whisk the hot milk mixture into the cream cheese until smooth. Add the 1 1/4 cup of strained yogurt and blend well.

Pour the yogurt mixture into a 1 gallon ziplock freezer bag and submerge the sealed bag in the ice bath. Let stand, adding more ice as necessary, until cold, about 30 minutes.
freeze
Pour the frozen yogurt into your ice cream maker and spin until thick and creamy (about 20-30 minutes depending on your machine).

Pack the frozen yogurt into a storage container, press a sheet of parchment paper directly against the surface, and seal with an airtight lid. Freeze in the coldest part of your freezer until firm, about 4 hours.
Notes
You can strain the yogurt a day in advance. Also, the extra strained yogurt can be used as labneh (yogurt cheese), or as a replacement to sour cream. The liquid that is strained from the yogurt can be used in smoothies.