Hey Everyone! We are launching 'SLC FOODIE DEALS,' which will highlight local Salt Lake City restaurants and shops that we support and love. These deals will give you inside information and special prices on unique products that we believe you will love. The way this will work is we will tweet and post amazing coupons for a local product, and all you have to do is mention "The SLCFoodie Deal" when you arrive at the restaurant or shop, and enjoy it at a great price! We hope you will experience and become a lover of new food and products that you never knew existed in Salt Lake City, or that you enjoy these products you already love at a lower cost. Please tell all your foodie friends, and follow us on Twitter to get these deals for the limited time they are available.
This Week's Deal (Sat 13th – Mon 15th):
Half off the price of a seasonally fresh salad and sandwich combo meal from this Saturday until Monday the 15th at The Rose Establishment.
Here is a glimpse of their menu: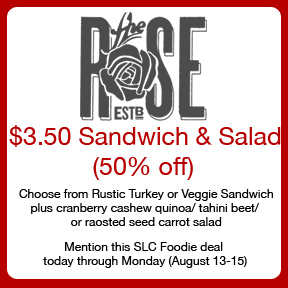 The Rose Establishment has one of my favorite patios in town. We brought
Henry
to The Rose this weekend and had a leisurely lunch outside. It is getting to be the perfect weather for eating outside. I can't wait for more fall temperatures!