My latest obsession – Broccoli, is getting out of control.  Yes, we all like broccoli.  It's like the staple American veggie, I know, but somehow I'm stuck join it this season. I've made Classic Broccoli and Cheese Soup, Roasted and Charred Broccoli with Pasta (vegan and gf), and now this Broccoli and Chicken Quinoa Casserole. Other than that, I've been tossing broccoli in with my eggs, into stir frys, and slicing up the little florets to dip into hummus or baked ricotta.  Broccoli, your uses are just limitless for me!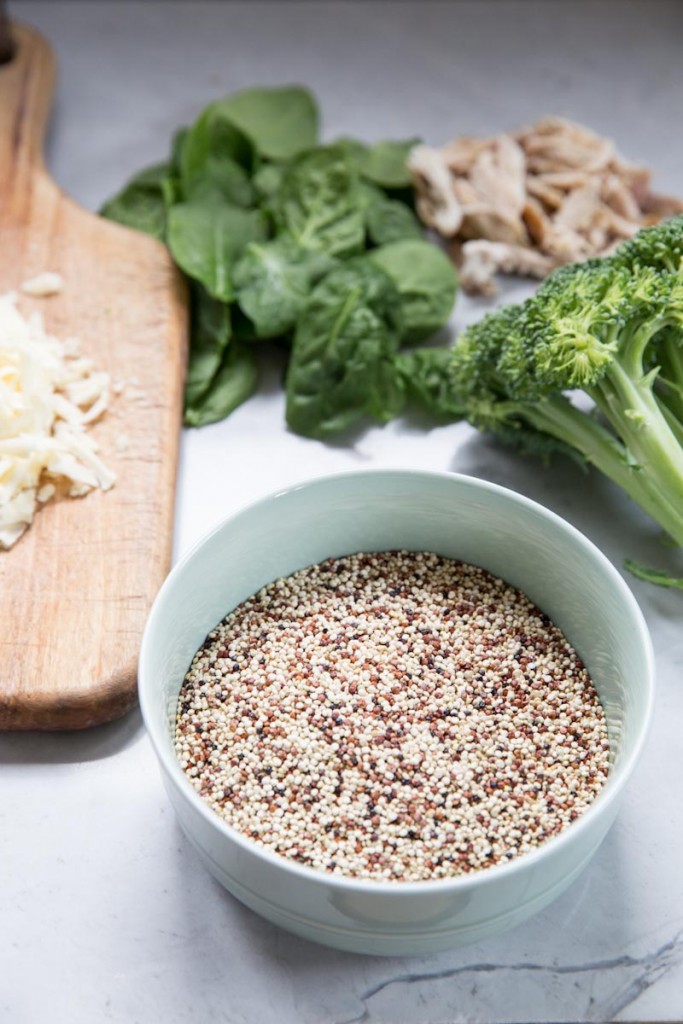 Speaking of obsessions, my husband is in a quinoa phase. He requests it at least for one meal a week and could eat it daily without tire. So, our obsessions meet in this easy comforting dish.  This recipe, though not dairy free due to the milk and cheese, is easily gluten free.  Often times I'll top the dish with chip crumbles, you know the stuff at the bottom of the bag.  That is, if I can get to it before Josh tilts the whole bag over, letting the crumbs fall right into his pie hole (a habit my son has now also taken on). So, if you have them, use potato chip crumbles, or top the dish off with toasted bread crumbs.  Whatever your pleasure but the crisp top really adds to the recipe.
What are your go-to dishes, family staples, or latest obsessions?!  I'd love to hear!!  I absolutely love finding new recipes to camp out on for a while.  This is definitely one for our family and I hope you enjoy it too!
Broccoli and Chicken Quinoa Casserole
This Broccoli and Chicken Quinoa Casserole is an easy and healthy weeknight meal that the whole family will enjoy.
Ingredients
1 1/2

cups

quinoa,

uncooked

3

cups

vegetable broth

1

head

of broccoli,

about 1/2 lb

1

cup

cooked chicken,

shredded

1

cup

aged cheddar cheese,

shredded

1

cup

milk

1/4

teaspoon

salt

1/8

teaspoon

red pepper flakes
for bread crumbs or chip topping
1/3

cup

chips or bread crumbs*

1

tablespoon

butter,

only if using bread crumbs
Instructions
Preheat oven to 350 and grease a 9 x 9 baking dish or one of similar size.

Using a the bottom pan of a steamer, start cooking the quinoa in the vegetable broth. Once it starts to simmer turn heat to medium low and cover with the steamer. Set timer to 18 minutes for quinoa. Add chopped broccoli into the steamer above the quinoa (alternately you can use two pans but this is just to save pans). Steam broccoli for 5-8 minutes or until tender, then set aside and cover quinoa back up until its done cooking.

Add in steamed broccoli, chicken, cheddar, milk, and seasonings to quinoa pot and stir to combine.

Transfer quinoa mixture to the prepared baking dish and top with 1/3 cup crumbled potato chips or bread crumbs mixed with 1 tablespoon of butter.

Bake at 350 for 25 minutes. Serve warm.
Recipe Notes
For a gluten free version use potato chips as the crunchy topping. If you prefer bread crumbs, toast the bread crumbs in 1 tablespoon of butter in a saucepan over medium heat for 1-2 minutes. Add the toasted bread crumbs to the top of the casserole before baking.