I was honored to help host a baby shower for a dear friend of mine last week. I told my ESL class of this American tradition of baby showers and was fascinated to hear about all of their cultural traditions surrounding celebrating the birth of a baby. I think my favorite was from Taiwan. The mother of a new baby gives out red dyed eggs to those who come over and bless the family with a gift or money. Although this sounds unusual to us as I began to think of our American tradition of baby showers, some of our traditions are pretty funny as well, like games dealing with diapers and candy candy bars, or watching the bride open every gift she receives. I guess what seems normal to one culture could seem very strange to another.
Part of the baby shower culture in America is the idea of hosts. The mother to be usually asks or is offered by friends to host the party. As hosts of this shower, we divided the responsibilities up and much to my surprise I was given the sweet opportunity to organize the yummy foods for the special evening. Of course, as soon as I was told my responsibility for the shower my mind was quickly filled with ideas of little treats and girly delights for the party. To worsen my indecisiveness I sent a tweet out on twitter to see if anyone had any other great food ideas. I got lots of great responses and was able to narrow down from there.
I decided on a soup bar for a light dinner which I enlisted the help of a few of the attendees to bring soups for. We were feeding about 50 people so this made it much easier to offer variety. We ended up with about 6 different soups and I picked up some breads from Great Harvest: Ciabatta and a loaf of Harvest Blend. I love both of these breads and they are easy crowd pleasers. Hopefully my fellow foodie friends can forgive me for not making the bread from scratch when you hear about all of the desserts.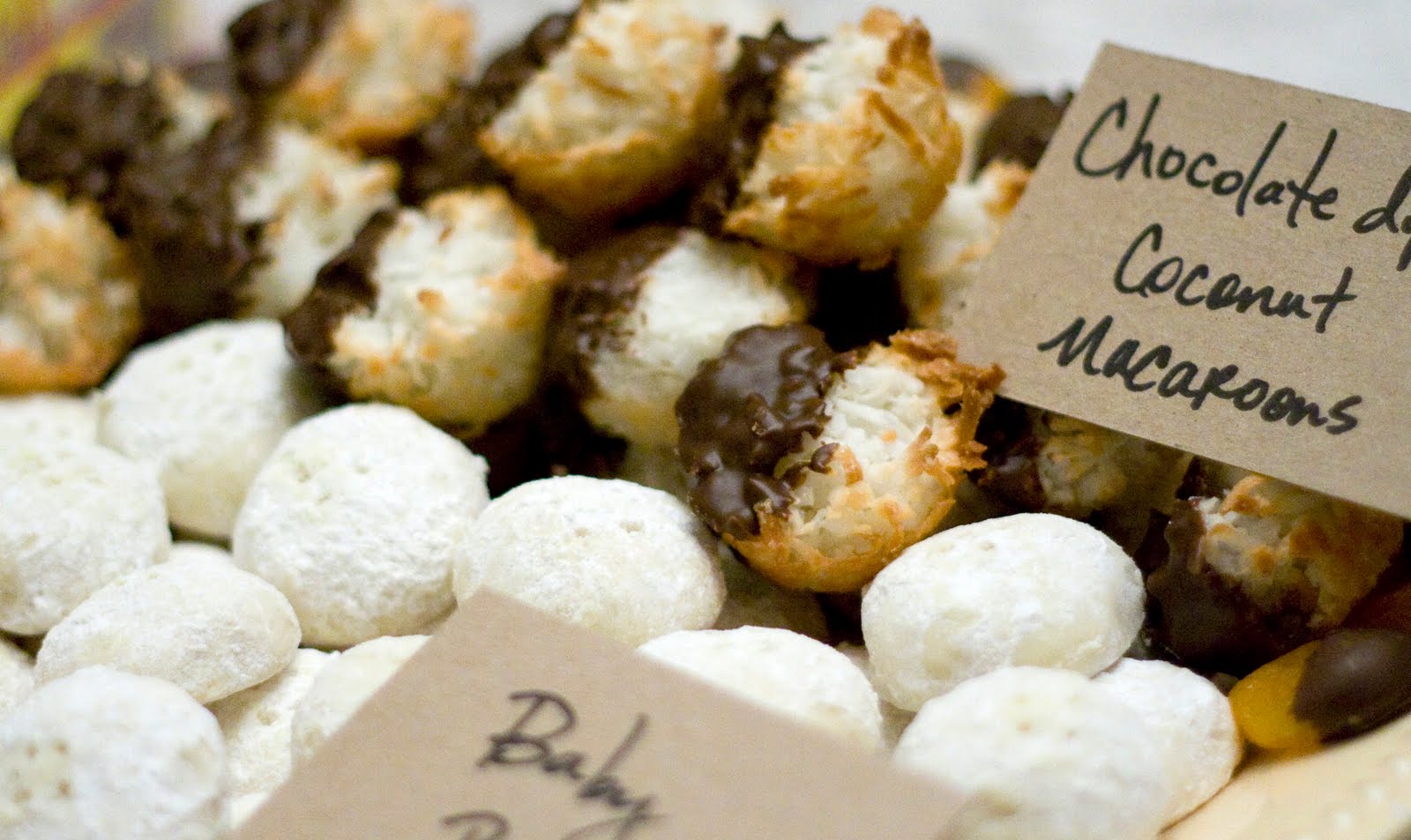 Desserts
Hot Cocoa Cakes
Baby Button Cookies
Chocolate Dipped Coconut Macaroons
Pumpkin Crunch Cake
I got the recipe for the Pumpkin Crunch Cake from a lady in Dallas, TX. I first tried it when we were traveling through there this October with Josh's music and tracked down the recipe because it was so delicious. The recipe is originally from a Cafe in Texas called The Bluebonnet Cafe, fitting for this Southern decadent recipe.

Pumpkin Crunch Cake
INGREDIENTS
1 14oz can of pumpkin
1 large can of evaporated milk
1 1/2 cups of sugar
2 tsp of pumpkin pie spice
1 tsp salt
4 eggs
1 box yellow cake mix
1 1/2 cups of chopped pecans
2 sticks of butter/margarine (I only used one..2 seemed a bit extravagant)
DIRECTIONS
Beat together the first six ingredients and pour into a 13 x 9 greased pan. Sprinkle dry yellow cake mix evenly over the pumpkin mixture. Add chopped pecans over cake mix. Thinly slice butter/margarine and place over pecans. Bake at 350 degrees for 45-50 minutes and serves with whipped topping.