Birthdays are one of my favorite times to care for my friends. A dear friend of mine, who I will just call Danny Tanner,( for he played the dad role among all of our friends growing up) used to bake me a birthday cake every year for my birthday. It was always yellow cake with chocolate icing and never plainly decorated. He commonly found random small toys or decorations to place on the top, probably found in the toy isle at the local grocery store. Ever since then I have it in my mind that a birthday cake must be exactly that: a yellow cake baked with love and smothered in chocolate icing with some whimsy element for the top. What is your ideal Birthday Cake?
One of the great things about this dear friend of mine is that he didn't just remember my birthday but he remembered all of his friends' birthdays and still to this day calls me on my birthday or texts me something ridiculous to make me laugh. I hope I can be that kind of a friend to others.
Since Danny Tanner won't give away his secret recipe, most likely found on the side of a Sara Lee box, I decided to venture out and find my own. I found the perfect recipe on Smitten Kitchen, a food blog I often rely on.
Since finding this recipe I've made if for a few occasions. The first time I tried her sour cream, no sugar, chocolate icing, which I ended up adding lots of sugar to. And it was good but the second time I tried a recipe from one of my new/old cook books, Easy Chocolate Butter Cream. I think it is a winner..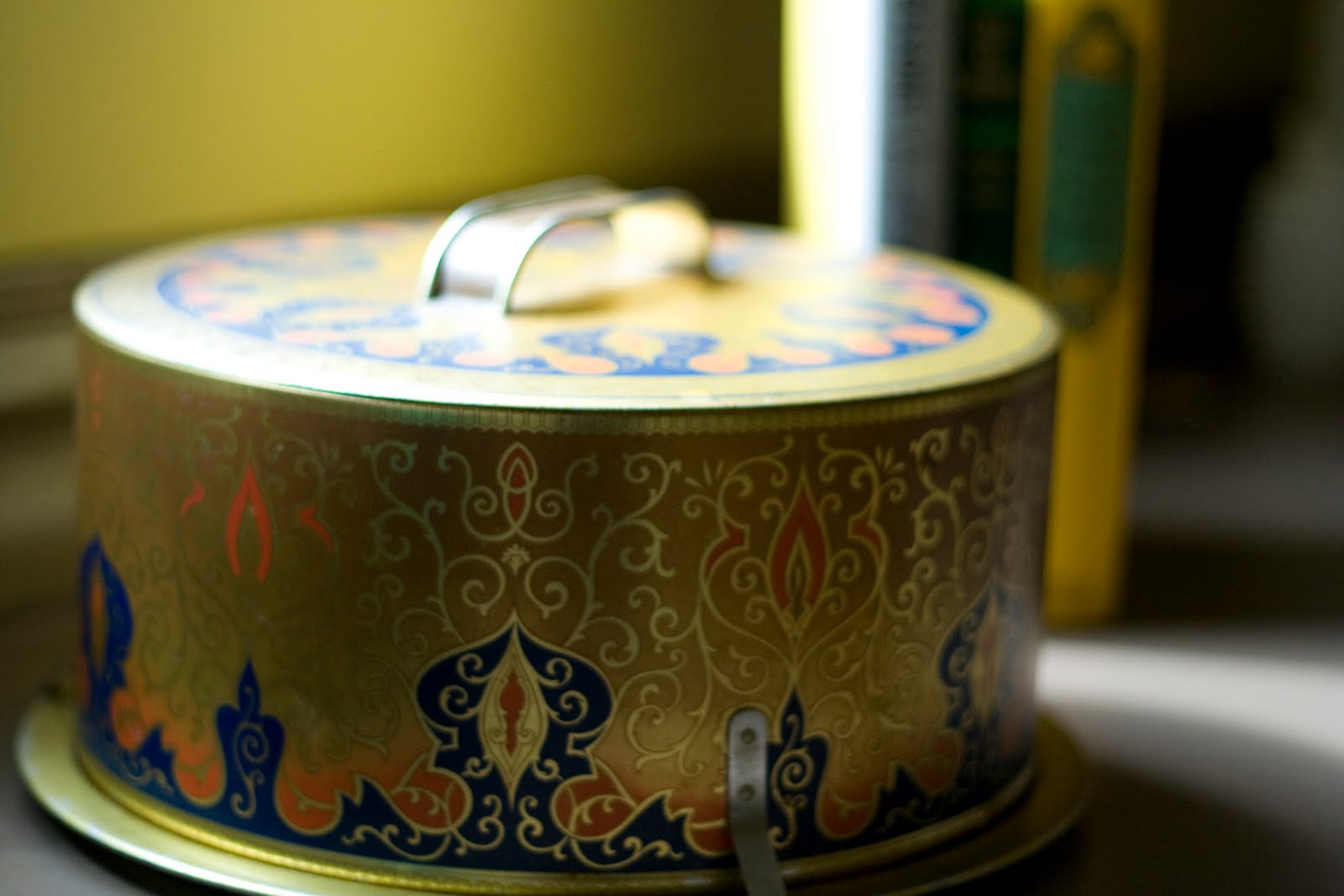 Oh and if you're wondering where about the super fun vintage cake carrier…I found it at
Retro Rose
in downtown Salt Lake, a super fun antique shop for all kids of eclectic things.
Perfect Yellow Cake
from Smitten Kitchen
INGREDIENTS
4 cups plus 2 tablespoons cake flour (not self-rising)
2 teaspoons baking powder
1 1/2 teaspoons baking soda
1 teaspoon salt
2 sticks (1 cup) unsalted butter, softened
2 cups sugar
2 teaspoons pure vanilla extract
4 large eggs, at room temperature
2 cups buttermilk, well-shaken
Tools Needed: Two 9-inch round cake pans
DIRECTIONS
Preheat oven to 350°F. Butter two 9-inch round cake pans and line with circles of parchment paper, then butter parchment. (Alternately, you can use a cooking spray, either with just butter or butter and flour to speed this process up.)
Sift together flour, baking powder, baking soda, and salt in a medium bowl. In a large mixing bowl, beat butter and sugar in a large bowl with an electric mixer at medium speed until pale and fluffy, then beat in vanilla. Add eggs 1 at a time, beating well and scraping down the bowl after each addition. At low speed, beat in buttermilk until just combined (mixture will look curdled). Add flour mixture in three batches, mixing until each addition is just Incorporated.
Spread batter evenly in cake pan, then rap pan on counter several times to eliminate air bubbles. (I like to drop mine a few times from two inches up, making a great big noisy fuss.) Bake until golden and a wooden pick inserted in center of cake comes out clean, 35 to 40 minutes. Cool in pan on a rack 10 minutes, then run a knife around edge of pan. Invert onto rack and discard parchment, then cool completely, about 1 hour.
Easy Chocolate Butter Cream
from Lessons in Gourmet Cooking
INGREDIENTS
8 ounces of semi-sweet chocolate
3/4 cup butter, softened
2 egg yolks
1 tsp vanilla
1 tsp instant coffee
DIRECTIONS
Melt chocolate in a bowl over a saucepan of water. Cool. Cream butter till light in color and fluffy. Add cooled chocolate, egg yolks and flavorings. If too soft to spread, refrigerate for a while. Rum or brandy may be used for flavoring too. (I used 1 TB of rum).
This makes barely enough to ice the cake above. If you like to have more icing on your cakes you might double the recipe.
TIP FOR ICING CAKES: to accomplish a smooth iced cake, let cake cool completely then secure the crumbs by applying a very thin layer of icing all around the cake. Then refrigerate the cake for about 20 minutes. This should secure all of the crumbs on the exterior of the cake. Then apply a second layer of icing for the finished look.
Some other great ideas for Birthday Cakes:
Double layered Tres Leche Cake
Layered Italian Cream Cake
Spice Cake with Maple Icing
Hot Cocoa Cake